April 12, 2016 07:50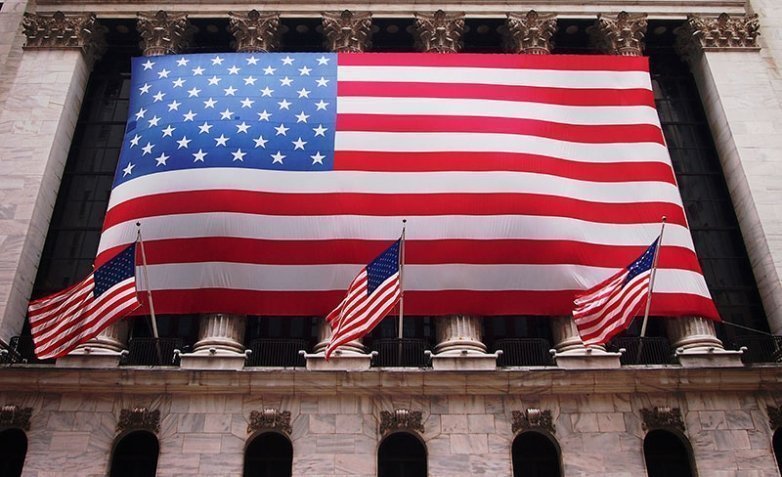 A look at our Equity CFD offering as first quarter 2016 earning season gets underway in the USA.
Alongside the new metals, commodity and index CFDs, we recently introduced and discussed last week. Admiral Markets has also enhanced its US Equity CFD offering, adding 5 new stocks to our list (Netflix, Amazon, Tesla, Alibaba and Twitter).
The 35 US stocks we now offer have a combined market cap of more than $6.4 trillion dollars, which is equivalent to approximately 30% of the total capitalisation of the S&P 500 index.
Seven major S&P sectors are represented, though there is a clear weighting towards Technology, where we have 10 names. Services is the next most populous group with 7 stocks. These weightings could be thought of as reflecting the mix of the modern US economy.
Sector coverage of Admiral Markets US equity CFDs.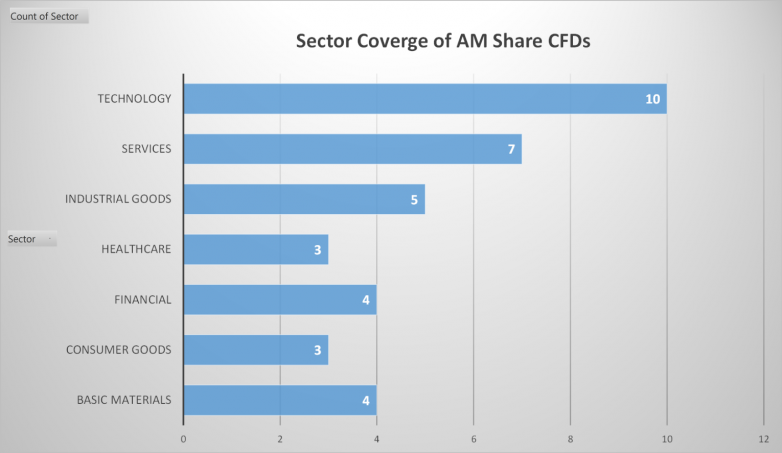 Drilling Down
Our US equity coverage is spread over more than 30 industry groups ranging from Agricultural Chemicals to Semiconductors, Diversified Entertainment and Major Money Centre Banks. At an Industry level Drug Manufacturers and Internet Information Providers are the best represented in our list, with three stocks a piece. Stocks such as 3M (MMM) and General Electric (GE) are major conglomerates that operate in many different business sectors. Alibaba is one of the world's largest online marketplaces and is a window into the Chinese economy. As you can see there is plenty of opportunity for diversification among the stocks that make up our offering.
Performance
If we look at the performance Year to Date for our basket of US equities,we find a mixed results. Social Media platform Twitter (TWTR) has fallen by -26.62% in this period and financial giant Bank of America (BAC) has fallen by -23.36%. As to the winners so far in 2016,Telecom groups AT&T (T) and Verizon (VZ) are up by 15% each.(Data as of the close 07-04-2016)
Year to Date performance of the US equities we offer CFDs on.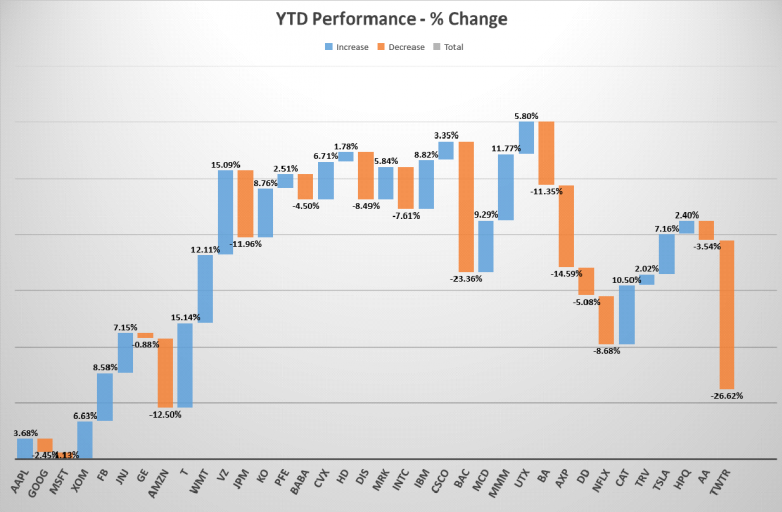 Over a similar period, the S&P 500 index is up by some 0.20%, the average performance for our basket of stocks is just over 0.30%.
Something to get your teeth into
Much has been of the so called FANG stocks over the last 9 months.These are a quartet of technology stocks comprised of Facebook, Amazon, Netflix and Google (now known as Alphabet).The quartet was responsible for much of the upside momentum in US indices in 2015. As we can see from the chart below these stocks have made substantial gains over the prior 52-week period (blue columns). On line entertainment provider Netflix is up by 65.66% in this period for example. I also note that these four stocks have been making gains once more. Each of them posting positive moves of at least 5.5% over the prior month and three of them clawing back their year to date losses as (orange columns) as they do so.
Year to date performance of the FANG stocks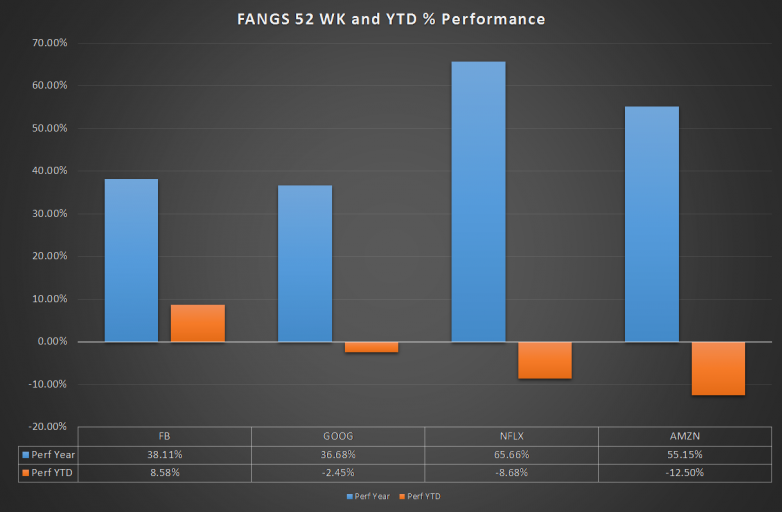 Earnings season is underway
The first quarter earnings season 2016 is upon us now and we will hear from many of the names in our list over the coming weeks. Banking giants JPMorgan and Bank of America will report on the 13 and 14 of April respectively for example.You can track expected earnings dates for US equities via this useful calendar from Yahoo, earnings.
Expectations for Q1 2016 earnings are once again on the low side. Research house Factset suggested that analysts' consensus forecast for earnings amongst the top 500 US equities were down by an average of -9.1%. Furthermore if we do see a negative earnings quarter, as predicted, it will the first time that we have had four consecutive negative quarters, since the period between Q4 2008 and Q3 2009 that spanned the immediate aftermath of the credit crunch and the start of the "great recession".
Of course at the moment the US economy is still growing though perhaps at a slower pace than it has been and corporate earnings may be peaking too.
There is unwritten rule in the US markets that companies "game" their results to some extent.That is to say that companies may have previously given conservative guidance about future earnings. Which in turn produces lower earnings forecasts from analysts, which the companies are then often able to beat. That is something of a generalisation but it's worth being aware of.
What should we look for in US earnings reports?
When US companies report it's important to look at both the earnings and revenue figures and to compare those to the consensus forecasts, which are usually included in news items on those companies' earnings. It's also worth paying attention to any comments about profit margins. Particularly if they have grown or shrunk in the quarter when compared to prior periods.
Perhaps most important of all is what the company says about the outlook for next quarter and the year ahead. Notwithstanding our comments above. Sentiment over future earnings often carries more weight than numbers from the prior quarter, which to some extent just reflect prior performance.
A beat on earnings and or revenues and positive forward guidance,will often mean that the shares of the company reporting will trade higher. Whilst a miss on earnings and or revenues and downbeat forward guidance will often result in the share price of the company falling. That said we also need factor in expectations or if you prefer how much good or bad news is already priced in.
If a company posts an earnings beat, quarter on quarter, that should be good news. But if that result was already anticipated by the markets then it may have been "better to travel than arrive". And if the stock in question has enjoyed a good run in the lead up to its figures,then we may see some profit taking and the share price move lower as a result. As a rule of thumb those companies with a high price earnings ratio or PE tend to be the ones with the most expectation priced in. In other words investors have been prepared to pay a high multiple (the share price divided by earnings per share) to own the stock and its future prospects and those same investors can be easily disappointed.
Follow me on Twitter to discuss the latest markets events @DSindenAMUK