April 18, 2016 07:20

Need to know
A quiet week in the US calendar, with the Philly Fed survey highlighted. Meanwhile the ECB interest rate meeting on Thursday, dominates the European data flow.
Coming up
On Tuesday 20 April we get both the RBA minutes and a speech from its Governor. Two key data items from Australia's central bank today,that come after a strong run in the Aussie dollar - better trade data from China and a bounce in commodity prices. Why should traders care? The performance of the Australian economy and the level of interest rates there, are closely watched by the market. The latter will be looking for any clues in the releases about the future direction of both. Watch AUD/USD support 0.7495 : resistance 0.7823
OnThursday 21 April the ECB meets to decide on interest rates. The introduction of negative interest rates was seen as gamble, but they may be helping to drive inflation higher in the Eurozone - one of the bank's key aims. Why should traders care? The flip side to negative rates are higher bond prices and lower yields that undermine ECB QE. The market will be looking at that trade off. Watch the Bund support 162.70 : resistance 164.37
The data-rich Philly Fed Survey is also due out on the afternoon of 21 April. One of a number of key US regional Fed surveys,the Philly Fed sheds light on the health of US industry,commerce and the wider economy. Why should traders care? The data may not move markets much on the day, but often has a long lasting "slow burn" effect. As such it's closely followed and analysed. Watch Dollar Index (USDX) support 93.68 : resistance 95.07
Chart to watch: Platinum daily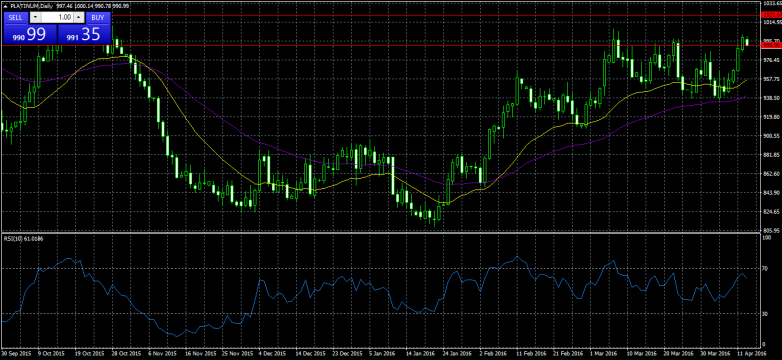 Platinum is once again testing to recent highs circa $1000. Though it has failed to hold onto any gains above this level since the beginning of March.However,the rally that started in late January has been supported by the 50 day EMA line (purple line).This line looks to be providing support at $938.50.The metal has effectively formed a triple top on the daily chart above and if it's not to retrace back to the 50 day EMA line,then we will need to see a sustained close above, or momentum led intraday move through $1008.00. RSI 10 (the bottom chart above) may provide clues as to whether that momentum currently exists.