It has been 3 years since the successful launch of a very promising instrument: CFDs for Eurobonds were introduced to our clients on October 24, 2014.
Let's see how that works.
Assume that on October 24, 2014 someone invested $100 000 on CFDs of the below Eurobonds, with a leverage of 1:2.
Sberbank 22 - 25 lots
VEB 20 - 24 lots
Gazprom 18 - 23 lots
Alfabank 21 - 24 lots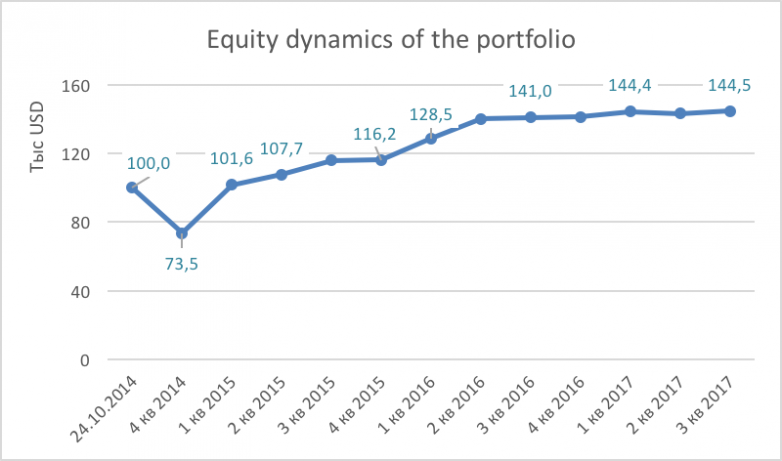 This particular investor would have earned 14.8% per annum or $14 800 per year, which is approximately $1 240 per month or $ 40.6 per day.
Three years after the launch of the product, the service has evolved, new issuers have been added, more leverage options are offered and the product remains a popular investment choice for our clients.

Presented figures and analysis refer to past data. Past events and data are not always a reliable indicator of future results. Past returns should not be used as a guarantee of future profits.
This information should not be considered as investment advice or personal recommendation. It must not be used or considered as an offer or solicitation of an offer to buy or to sell any trading instrument. Although the information is based on sources the Company believes to be reliable, no representation or warranty, express or implied, is made in this respect by the Company. The Company makes no warranty or representation that any trading instruments referred to herein are suitable for you, therefore any potential investment decision following this news feed should seek appropriate independent advice. Positions in financial instruments involve risks. Trading in leveraged products such as forex and CFDs puts your capital at risk. You should not risk more than you can afford to lose; it is possible that you may lose more than your initial investment. For additional information, please read the Risk disclosure of Alfa-Forex.