Yesterday's Trading:
The euro closed down against the USD on Friday. The price dropped to 1.1282 due to positive US stats. Consumer confidence and retail sales were better than expected.
The Reuters/Michigan consumer confidence index stood at 95.8 against a forecasted 90.0 and 89.0 in April. Retail sales showed an unexpected growth of 1.3% in comparison with a -0.3% fall in March and only a 0.8% rise forecasted.
Market Expectations:
I always consider movements against that of Friday on a Monday and I never look at the news. I think that the best thing for today would be a correction to 1.1335. If the euro restores to here, on Wednesday we can expect to see a fall to 1.1250.
Day's News (EET):
German and Swiss holiday;
15:30, New York Fed manufacturing index;
17:00, NAHB's housing market index for the US;
17:30, BoC report;
23:00, US net long-term securities purchasing.
Technical Analysis:
Intraday forecast: minimum: 1.1290, maximum: 1.1335, close: 1.1314.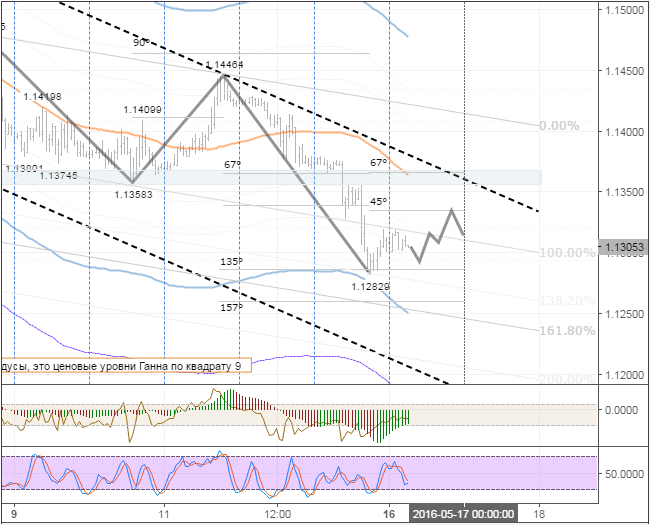 Euro/dollar rate on the hourly. Source: tradingview
The euro/dollar has found a support at the 135th degree near the D3. The zone between the 112nd and 135th degrees is inverted. On Friday the euro broke the 1.1350 support. Due to this I am not looking at a restoral above the level indicated. I am waiting for a rebound to the LB or to 45 degrees at 1.1335. If the forecast comes off on Tuesday, on Wednesday I will be looking at a weakening of the euro to 1.1250. Now we'll take a look below at the technical picture on the daily graph.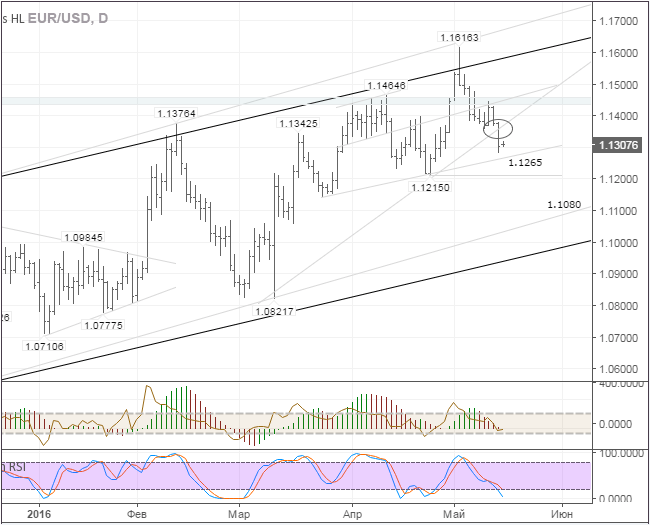 Euro/dollar rate on the daily. Source: tradingview
The daily pinbar with a tail at 1.1616 has come off. A weekly pinbar is now starting to form and the target for it is at 1.1215.
On Friday the euro/dollar broke the trend line which runs through the 1.0821 and 1.1215 minimums. This means that the sellers have opened the road to 1.1080, to the other trend line. Along the way there are two interim levels to meet: 1.1265 and 1.1215. On the final one the pinbar will fully form and then a head will appear on the daily. The daily indicators indicate a fall for the euro.