What an exciting week ahead for all lovers of the JPY. There was an article that they will "drop" the money on the 15th August. It is the 15th today.
On the monthly timeframe the AUD/JPY is in a downtrend from 2014-12-01.
The weekly in a downtrend from 2014-11-17.
It close with a green candle on the 15-minute timeframe just outside the 200 Bollinger band on Friday evening.
There will be red news for the JPY at 1H50 GMT 2. Prelim GDP q/q.
If it is good news for the JPY it is possible that it will drop. Therefor the AUD/JPY will probably hit at least the first Resistance at 78.252. From there it could go all the way to the second resistance 79.001. For this week if the money drops the AUD/JPY can go long for a long time. On the other hand it can go short also.
But in time like these we are trading in it is possible that it could weaken the AUD and drop feather to   1Support 77.046. and then all the way to 2 Support 76.589, even 3 Support 75.383. By that time, it is nightmares for Minister Abe.
At the time of writing this analyst the market just open for Monday's session and the 15minute green candle is at 77.541 just inside the 200 Bollinger band.
Including a chart of the AUD/JPY at 15minute timeframe. As can see the next candle is already a red one.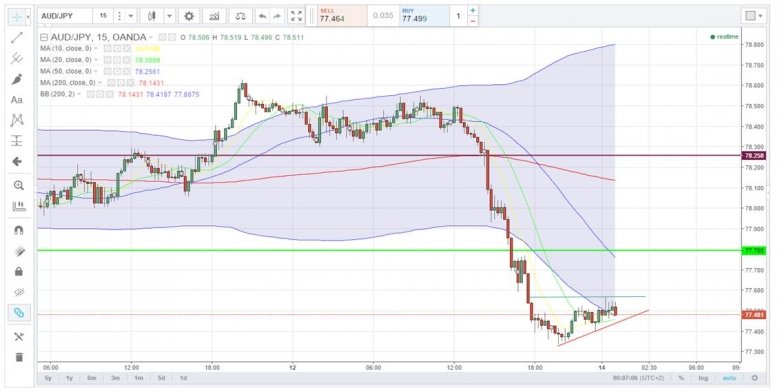 Happy trading on this exciting Monday.