Yesterday evening at 21:00 (GMT 3), the US Fed published its Beige Book. The report cited modest economic growth and noted that the employment market is nearing saturation. It also mentions that US businesses expect consumer prices to grow at a moderate pace over the next few months.
There isn't too much going on today according to the Forex calendar. GBP traders will want to keep an eye on British retail sales data, which comes out at 11:30 (GMT 3). CAD traders would do well to pay attention to the ADP employment report, which comes out at 15:30 (GMT 3).
EURUSD:
The EURUSD pair has barely changed in value over the last 24 hours. It's currently trading at 1.1641, just 8 pips higher than it was ahead of the opening of the European session yesterday.
Looking at the charts, we can see that on the hourly timeframe (H1), the EURUSD pair is still trading within the confines of the potential downtrend, which I wrote about yesterday: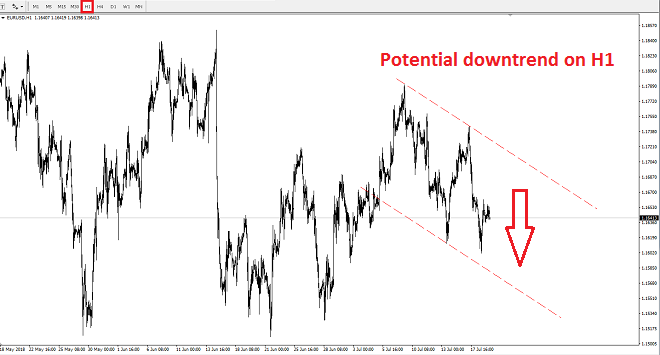 I don't really see any reasons for the euro to grow, so I think that the EURUSD pair will most likely remain within the confines of this potential downtrend at least for today and tomorrow. In my opinion, it's much more likely that the EURUSD pair will move towards the lower boundary of the channel.