Yesterday evening, US President Donald Trump took aim at the Federal Reserve regarding its monetary policy. Trump revealed that he wasn't thrilled with the pace of interest rate hikes as it may hinder the country's economic growth. The Fed has already raised interest rates twice this year, with the key rate currently at 1.75 – 2%. The regulator is expected to raise rates again once or twice this year.
Today's European and US sessions will pass without any major statistical releases. CAD traders should look out for Canadian retail sales data for May, as well as inflation data for June. These reports will both be published at 15:30 (GMT 3) today. I think that these releases have the potential to cause some serious intraday volatility on the Canadian dollar.
EURUSD:
Over the last 24 hours, the EURUSD pair has risen by around 25 pips; from 1.1641 to 1.1666. Although the euro dropped to 1.1575 against the dollar ahead of yesterday's US session, it managed to recover its losses by the evening and return to 1.1641 on the back on Trump's remarks.
Moving on to the chart, we can see that the potential downtrend on the EURUSD hourly timeframe is still alive and well: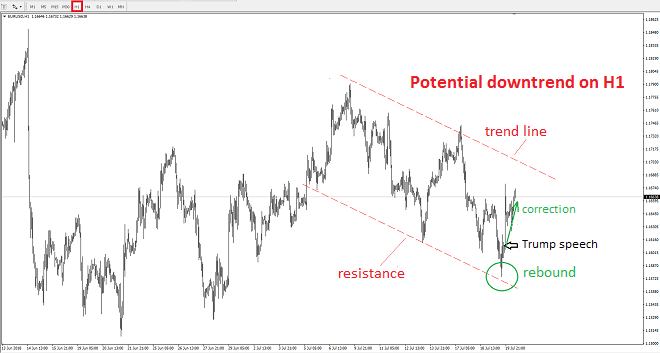 We can see on the chart how the euro rebounded from the resistance line towards the trend line following Trump's speech. I reckon that the EURUSD pair will remain within the downwards channel for the rest of the day.
I'd refrain from trading the EURUSD pair on the hourly timeframe today, because despite the downtrend, there's no clear sell signal. What we're currently seeing on the hourly timeframe is a correction.