President Donald Trump met with President of the European Commission Jean-Claude Juncker last night in Washington. They discussed the trade relations between the US and the EU. Financial markets indicate that after yesterday's meeting, the tension in trade relations between the US and Europe may ease. Financial markets reacted positively to the results of yesterday's talks between the US president and the president of the European Commission.
EURUSD increased by about 50 pips from 1.1680 to 1.1730. However, I believe that this growth is not due to the meeting between Donald Trump and Jean-Claude Juncker, but most likely it occurred against the background of tensions among financial participants in anticipation of the ECB meeting. The EURUSD is simply behaving in a very volatile manner in the run-up to the ECB meeting.
Today it would be a good idea to pay attention to the following key developments and macroeconomic data:
14:45 Eurozone: ECB deposit rate decision.
15:30 Eurozone: ECB monetary policy statement and press conference.
15:30 US: durable goods orders (Jun).
EURUSD
On the H4 timeframe, EURUSD is testing the upper line of the descending triangle.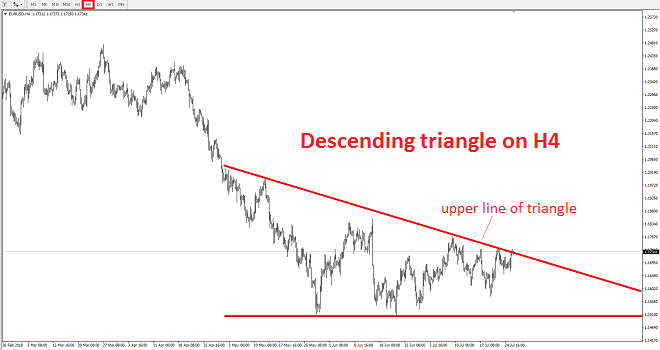 On the H1 timeframe, EURUSD is testing the level at which the previous two local vertices ("Max 1" and "Max 2") were formed.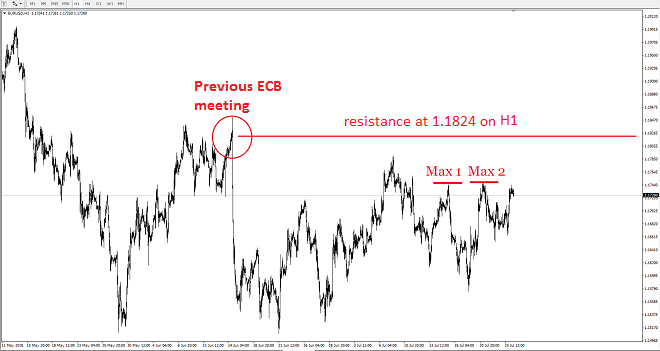 The key resistance in the EURUSD pair, in my opinion, remains at 1.1824. This is where the EURUSD pair was on the eve of the previous ECB meeting. I explained this earlier.
The chart shows trends neither on the H4 nor H1. Therefore, for the time being I will refrain from shorting the EURUSD pair. I will wait until the ECB meeting wraps up, and should the ECB not change its rhetoric on monetary policy, I will look for an opportunity to short the EURUSD pair. I wrote about it yesterday and explained why, looking at the fundamentals, I believe that the dollar is more promising than the euro.
However, I want to clarify that today, following the publication of the ECB's monetary policy decision and during the subsequent press conference, I expect increased volatility. Therefore, even if I were to open a short position, it would be after the volatility has waned and the market has calmed down.
At the time of writing the EURUSD pair was trading at the 1.1728 mark.