Since the middle of last year, I have been writing that with regard to NZDUSD, I expect a range to form between 0.60-0.75. At the moment, NZDUSD is trading near 0.6555, and it seems to me that by the end of the year we will test this low at 0.62-0.64, which formed in autumn 2015: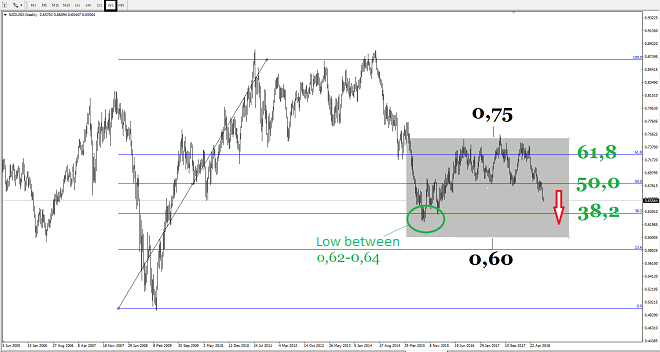 Also I want to draw attention to the fact that the low which formed in the range between 0.62-0.64 corresponds to 38.2 Fib. I applied the Fibonacci grid based on the wave that was formed during the global financial crisis, that is, at the beginning of the current business cycle.  
The chart also shows that from mid-2016 until the end of the first quarter of 2018, NZDUSD had repeatedly tested at 61.8 Fib. The chart just recently went down from 50.0 Fib. Therefore, I believe that in the coming months we will reach 0.62-0.64 or 38.2 Fib.