Previous:
On Wednesday the 15th of August, trading on the euro closed slightly up. On the back of some partial profit-taking following the pair's recent collapse, the pair has now recovered from 1.1301 to 1.1345. The Turkish lira has stabilised at around 6 lira to the US dollar, which, along with the downwards correction on the dollar in response to the drop in US bond yields, has provided the euro with a boost.
Day's news (GMT 3):
11:30 UK: retail sales (Jul).
12:00 Eurozone: trade balance (Jun).
15:30 Canada: manufacturing shipments (Jun).
15:30 US: Philadelphia Fed manufacturing survey (Aug), initial jobless claims (6 Aug), building permits (Jul), housing starts (Jul).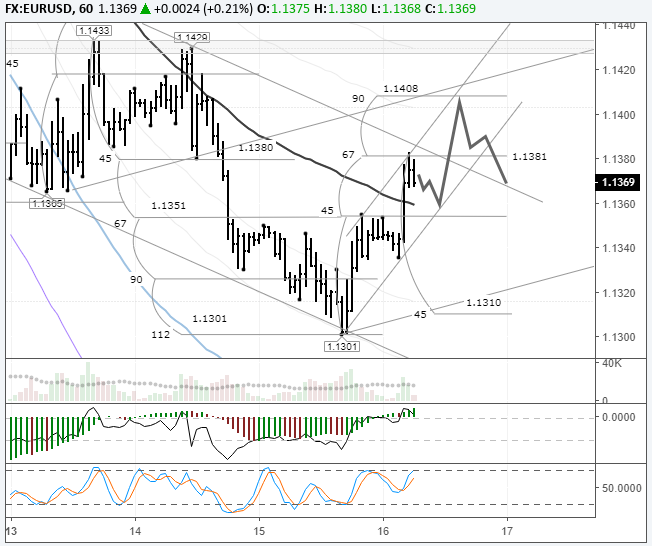 Fig 1. EURUSD hourly chart.
Current situation:
The Turkish lira is no longer interfering with the euro. It rose following reports that Qatar has pledged to make direct investment in Turkey to the tune of 15bn USD.
In Asia, the euro has recovered to 1.1391 with some help from the crosses. This marks a 67-degree rebound from 1.1301. On the technical side of things, the euro is sitting pretty at the upper boundary of the downwards channel. Under such conditions, I recommend placing a stop level at 1.1440.
Since this is a big stop level for me (around 50 pips), I'm going to wait for the pair to approach the 90th degree. Here, I'm relying on yesterday's long-legged doji. After such a candlestick, one would expect to see a 50% correction followed by renewed growth. Since this morning's growth started without a pullback, I expect the euro to drop to 1.1362/65 followed by a session rally to 1.1408.
Beware, this growth scenario goes against the trend and may not work out. There's still a lot of pressure on the euro. Keep an eye on the movements of US bond yields, the Turkish lira, and the euro crosses. I don't see any important news releases for today.