Previous:
On Wednesday the 29th of August, trading on the euro closed up despite falling during the first half of the day. The main driver for the pair's growth was an increased appetite for risk among investors, as well as a decline on the dollar which was brought about by a sharp rise on the British pound. The pound gained 160 pips, or 1.3% against the dollar. This put pressure on the euro against the dollar and sunk the EURGBP cross pair.
The pound's rally was started by the EU's chief Brexit negotiator, Michel Barnier, who said that the EU was prepared to offer the UK unique partnership, "such as there has never been with any other third country". The euro shot up later to trade above 1.17.
Day's news (GMT 3):
10:00 Switzerland: KOF leading indicator (Aug).
10:55 Germany: unemployment change (Aug).
11:30 UK: M4 money supply (Jul), mortgage approvals (Jul), net lending to individuals (Jul).
15:00 Germany: harmonised index of consumer prices (Aug).
15:30 Canada: GDP (Jun).
15:30 US: core personal consumption expenditure - price index (Jul), personal spending (Jul), personal income (Jul), initial jobless claims (24 Aug).
20:30 Germany: German Buba President Weidmann speech.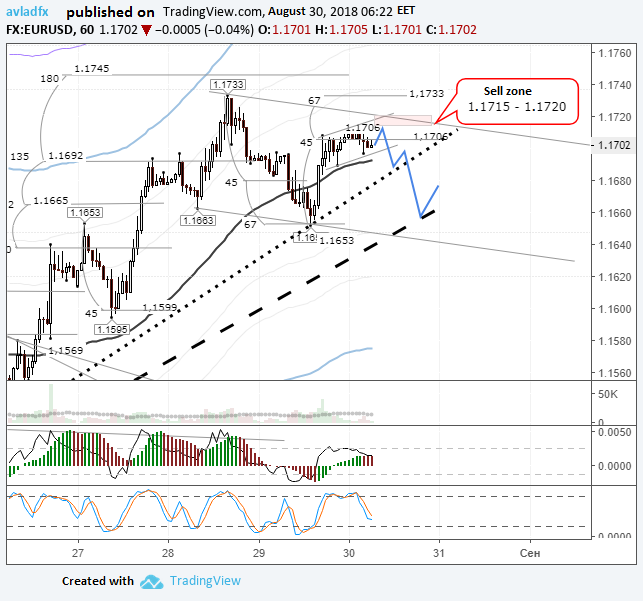 Fig 1. EURUSD hourly chart.
Current situation:
On Wednesday, our pair dropped to 1.1652 without any preceding pullbacks. Having broken the 45th degree, it bounced off the 67th degree to jump 56 pips. This reminds me of a joke about a trader. A trader jumps out of a 75th-floor window on Wall St. After hitting the ground, he bounces 10 metres in the air, thereby recovering some of his losses.
Following a false breakout, I've adjusted the trend line to run through the latest low (dotted line on the chart). Weekly intraday patterns and hourly cycles suggest that the euro is set to drop through to the end of the US session. This is exactly the scenario I have in my forecast.
Considering that the crosses are trading up, I think that a good place for shorting the euro would be between 1.1715 and 1.1720. If the EURGBP pair reverses upwards, the euro will make a significant jump. There's a risk of reaching a new high. We'll have to play it by ear; keep track of the crosses, the general direction of the dollar index, the yen, and US10Y bond yields.
The Turkish lira lost a lot of ground against the dollar on Wednesday. If pressure on it remains up until the weekend, investors may start retreating to the safety of the yen. In this case, a retreat from risky assets will provide support to sellers, and it will be easier for them to move downwards.
If the trend line at around 1.1685 gets broken, this will open the way for sellers to the basis of the trend line at 1.1658 (around yesterday's low).