EURAUD had a tremendous end of the month. August did not start well, but it ended great. At the beginning of the month, the price broke the lower line of the sideways trend and went down. Many traders expected to see the right shoulder of the H&S pattern, but instead, the price bounced from the major upwards trend line and went higher. Since the bounce, we have only seen movement in one direction.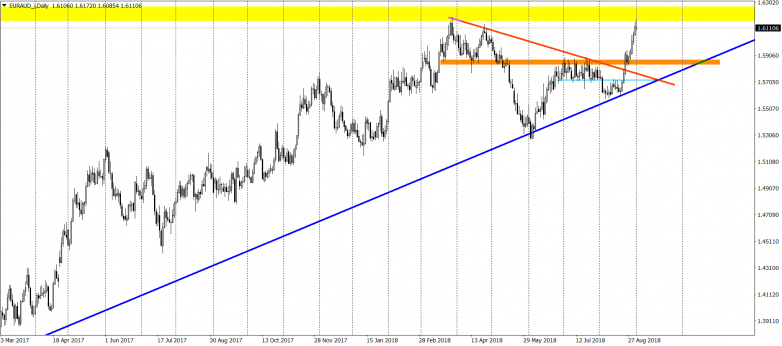 EURAUD tested the trend line on the 20th of August. On that day, the price created a doji candlestick on the daily chart. Currently, the chart looks like a take-off from Cape Canaveral. The price broke all major resistances with ease. All, with the exception of one: the long-term horizontal resistance at 1.618 (yellow). That level has been crucial since 2015, and was previously tested in March. After an increase by almost 600 pips, that seems like a great place for a bearish bounce, or at least some take profit action. Some traders are following this, as the price is creating a doji candlestick (again).

If we stay below the yellow area, we could find an interesting short-term selling opportunity here. The chances of a drop are quite high. The buy signal will be on as long as the price stays above the orange area.