Previous:
On Thursday the 6th of September, trading on the EURUSD pair closed down. The pair spent most of the day hovering around 1.1630. The single currency then came under pressure during the US session and the rate dropped to 1.1606. Investors retreated from risky assets following the publication of an article in the Wall Street Journal suggesting that Japan could be the next target in Donald Trump's trade wars.
The price drop was moderate. After reaching the balance line, the pair started trading sideways.
US data:
Initial jobless claims (31 Aug): 203k (forecast: 214k, previous: 213k).
Markit services PMI (Aug): 54.8 (forecast: 55.2, previous: 55.2).
ISM non-manufacturing PMI (Aug): 58.5 (forecast: 56.8, previous: 55.7).
Factory orders (Jul): -0.8% (forecast: -0.6%, previous reading revised from 0.7% to 0.6%).
Day's news (GMT 3):
09:00 Germany: industrial production (Jul), trade balance (Jul).
09:45 France: industrial output (Jul), trade balance (Jul).
10:00 Switzerland: foreign currency reserves (Jul).
10:30 UK: Halifax house prices (Aug).
11:30 UK: consumer inflation expectations.
12:00 Eurozone: GDP (Q2).
15:30 Canada: net change in employment (Aug), unemployment rate (Aug).
15:30 US: nonfarm payrolls (Aug), unemployment rate (Aug), average hourly earnings (Aug), average weekly hours (Aug), labour force participation rate (Aug).
17:00 Canada: Ivey PMI (Aug).
20:00 US: Baker Hughes US oil rig count.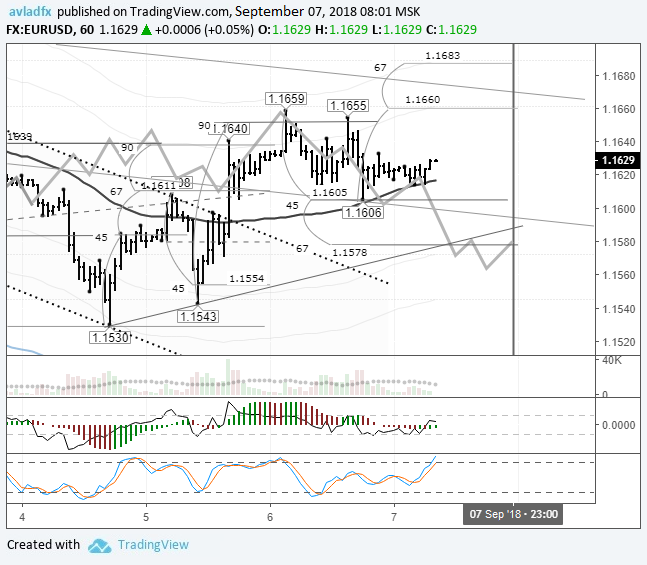 Fig 1. EURUSD hourly chart.
Current situation:
In order for this week's trading to close at my projected level around 1.1580, the bears need to go on the attack today. For the time being, they're holding off ahead of today's NFP report in the US, which comes out at 15:30 (GMT 3).
If the NFP report disappoints market participants today, there's a risk of returning to 1.1720 over the following 3 hours. I don't make market predictions on payrolls day. If the actual figures significantly diverge from projections, we can expect volatility within a 100 – 150 pip range.
There aren't any important news releases from Europe expected. The market often consolidates within a narrow range ahead of the NFP report. Don't be surprised if the pair continues to trade at around 1.1635 up until 15:30 (GMT 3).
Markets are jittery over the possibility of even more tariffs being imposed on Chinese imports to the US, so pressure on the euro will remain even if it moves upwards at 15:30.