Previous:
Over the course of last week, most of the majors lost ground against the US dollar. The Kiwi dollar dropped by 1.29%, the Aussie by 1.25%, the loonie by 0.95%, the euro by 0.42%, the pound by 0.29%, and the Swiss franc by 0.03%.

Fig 1. USD dynamics last week.
The single currency dropped on Friday following the release of US employment data. According to the latest report, annual wage growth in August was at its highest since 2009. The dollar surged on the back of expectations of another two interest rate hikes this year.
Day's news (GMT 3):
11:30 UK: industrial production (Jul), manufacturing production (Jul), total trade balance (Jul), index of services (Jul).
15:00 US: FOMC member Bostic speech.
16:00 UK: NIESR GDP estimate (Aug).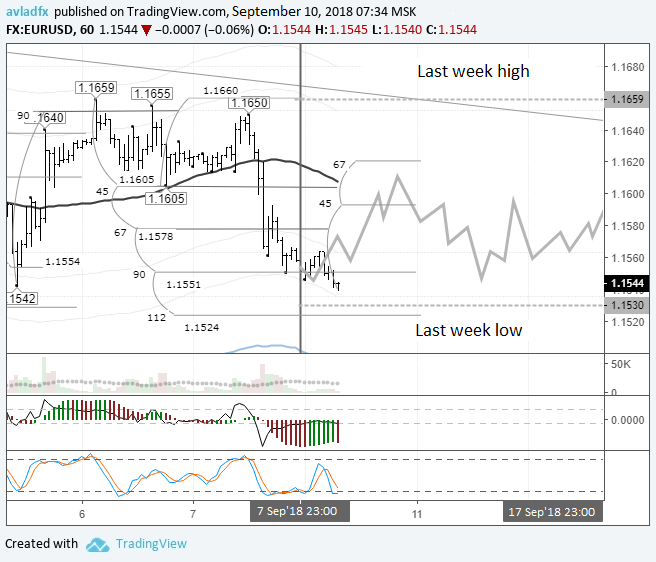 Fig 2. EURUSD hourly chart.
Current situation:
My expectations for last week were proven correct for the most part. The pair dropped 90 degrees from 1.1650. Since the euro dropped after the payrolls report, for today I'm going to look at movement against Friday's, meaning a recovery for the euro. I've made a new intraday prediction for the week. It's based on hourly cycles and patterns. The next two days are shown on the chart.
The calendar is virtually empty. The centre of attention among traders today will be data from the UK. Keep an eye on the EURGBP cross. The balance line runs through 1.1607. Today, it's acting as a resistance. By the time the US session opens it will be at 1.1595, which will bolster the 45th degree.