An interesting setup can be seen on the GBPUSD pair, which has been rocked by the Brexit rumours and comments from Mr. Barnier over the last few days. These were positive on the whole but GBP still failed to break the crucial resistances. Apparently, we need much bigger news for a proper buy signal here. As they say, if the price does not want to go up, it will probably go down, and we have grounds to believe that it will.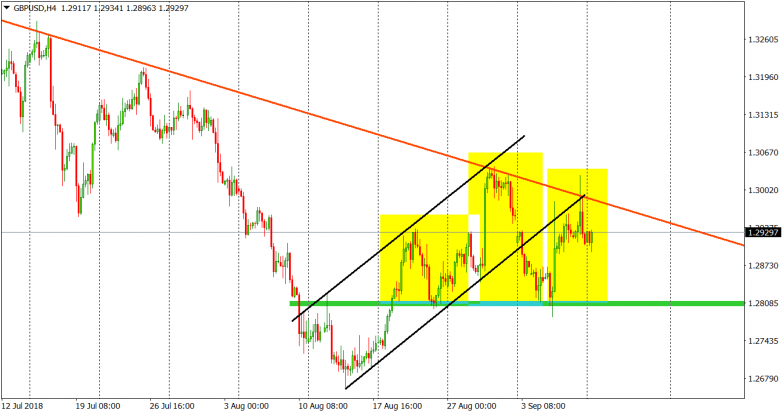 First of all, we are under the major downwards trend line (red), which is connecting crucial lower highs since May. What is more, we just escaped the bearish flag pattern (3rd of September, black). In addition to that, the pair is forming a head and shoulders pattern (yellow). This is all negative. A proper sell signal will be triggered when we break the neckline at 1.281 (green).
We have three bearish signals in one place, so why isn't the rate dropping? Well, USD has started the week on the back foot, but the thing is that the sell signal from the H&S pattern is not active yet. As for now, the formation is purely theoretical as we haven't even touched the neckline since the formation of the right shoulder. Nevertheless, the sell signal is on and will be present as long as the pair keeps trading below the red line.