Previous:
On Wednesday the 12th of September, trading on the euro closed up. The dollar was under pressure amid the strengthening of the Canadian dollar. Market participants reacted to officials' sentiment regarding the imminent conclusion of a new trilateral NAFTA free trade agreement between the US, Canada, and Mexico. In addition, US President Donald Trump said in the evening that negotiations with Canada were going well, and that Canada wants to conclude a new agreement. The euro recovered to 1.1650, after which the pair moved to the consolidation phase.
Day's news (GMT 3):
9:00 Germany: CPI (Aug).
9:45 France: CPI (Aug).
10:15 Switzerland: producer and import prices (Aug).
14:00 UK: BoE asset purchase facility, BoE interest rate decision, BoE minutes.
14:45 Eurozone: ECB interest rate decision.
15:30 Eurozone: ECB monetary policy statement and press conference.
15:30 Canada: new housing price index (YoY).
15:30 US: initial jobless claims (Sep 7), CPI (Aug).
21:00 US: monthly budget statement (Aug).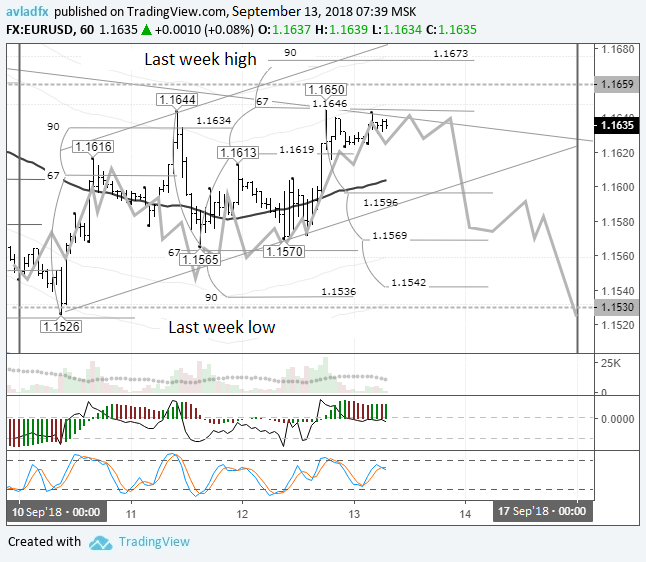 Fig 1. EURUSD hourly chart.
Current situation:
The lateral trend from 1.1650 has been underway for 14 hours. At the time of writing, the euro is at 1.1624 (1.1635 on the chart).
Market participants have their attention focused on the ECB and BoE meetings, as well as Draghi's press conference. The ECB is not expected to raise rates. Draghi said that rates will remain low for a long time. All eyes and ears will be on Draghi's announcement.
The euro may fall under pressure after the BoE's decision to keep interest rates at the same level. At this time, we should monitor the breakdown of votes on the decision. Any changes will cause sharp price fluctuations on GBP pairs, and will affect the euro/dollar via the euro/pound pair.
I forecast a drop this week to 1.1576, and on Friday to 1.1530. The forecast does not take into account the fundamental data, therefore deviations are possible. The support is at the 45th degree - 1.1596, resistance - 1.1666.