The new week is starting out interestingly on the EURGBP pair. The situation here looks bearish and there are a few factors that lead us to believe this. Actually, this is nothing new, as the price has been going down since the end of August. However, just recently, it started to make sense from the technical point of view. Okay, but what about those bearish factors? Here, take a look: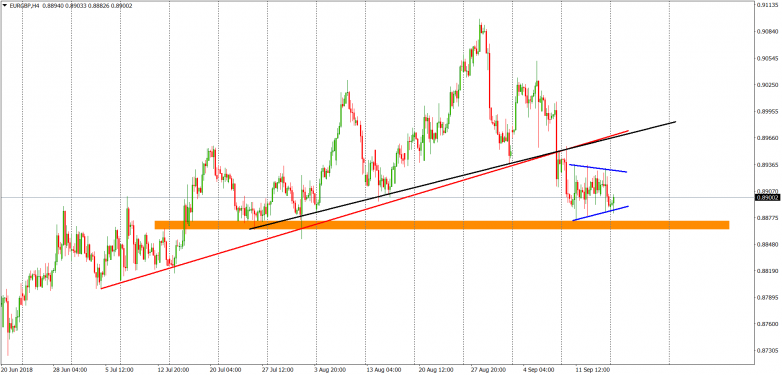 First off, the price broke the major upwards trend line (red), which has been connecting higher lows since July. Secondly, there is the breakout of the neckline (black) of the big Head and Shoulders formation. Thirdly, the price is currently forming a pennant pattern (blue lines), which is a trend continuation formation promoting a further drop. Although the situation is bearish, we still have to wait a bit for a proper sell signal. We are on the lower line of this formation and on the mid-term horizontal support (orange), so this is not the best place to trade. Once those are broken, we will receive a major sell signal.
Negative sentiment will remain alive as long as we stay below the lower line of the pennant. A breakout of the upper line of this pattern will deny this formation and cancel the sell signal.