Previous:
On Monday the 17th of September, trading on the euro closed up. The rate recovered to 1.1669 (67 degrees). I reckon that the pair's growth was triggered by the pound, which rose to 1.3164 against the greenback. The pound got some support following reports that progress is being made in the Irish border talks.
Day's news (GMT 3):
15:30 Canada: manufacturing shipments (Jul).
17:00 US: NAHB housing market index (Sep).
23:00 US: net long-term TIC flows (Jul).
23:30 US: API weekly crude oil stocks (14 Sep).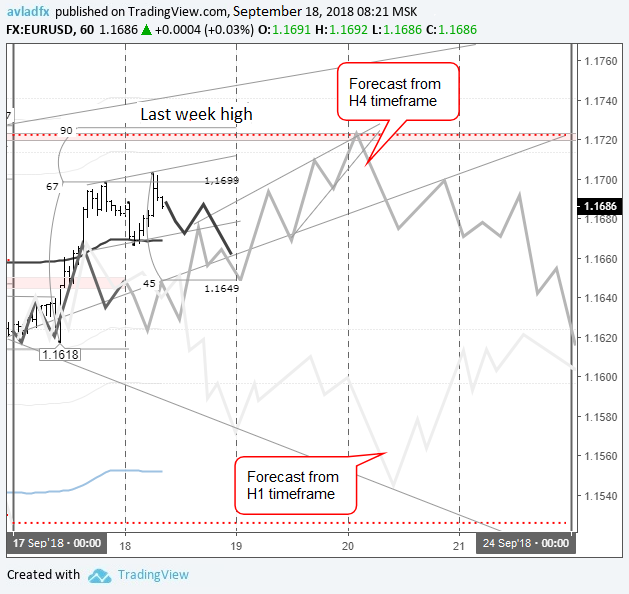 Fig 1. EURUSD hourly chart.
Current situation:
The rate jumped by 67 degrees. Monday moved against Friday. Since a rebound from the trend line did not occur, I reckon that the pair is following my forecast from the 4-hour timeframe. I haven't removed my hourly forecast from the chart because of the ongoing trade wars. I've also included an intraday forecast for Tuesday, so I hope this doesn't confuse anyone.
In Asia, the euro bulls have revisited yesterday's high (1.1665). The pair is currently trading at 1.1716. The economic calendar is pretty bare, so after yesterday's session rally, I concluded that today we should see a correction to 1.1662. This is a necessary, but insufficient for my weekly scenario to work out. It's important that the rate doesn't drop too far, or it could easily turn into my scenario from the hourly timeframe. Let's wait and see what kind of comments come out of China today in response to the proposed new tariffs. There's a resistance at 1.1722, beyond which the road is open to 1.1740.
There's an EU leaders' summit taking place this week, where negotiations with the UK will continue. These talks will be important for the pound. If there isn't any negative news, the pound won't drop, and this shouldn't have any negative effects on the euro.