Despite the strengthening of the US dollar on Friday, by the end of the week all major currencies, except the yen, showed gains. The highest gains were shown by the New Zealand dollar ( 2.05%). The Australian dollar gained 1.87%, the euro - 1.08%, the Canadian dollar - 0.99%, the Swiss franc 0.96, and the British pound - 0.09%. The Japanese yen fell by 0.45%.

Fig 1. Last week's USD dynamics.
Previous:
On Friday, trading on the EURUSD pair closed down. The single currency began to lose ground to the dollar in the European session after hitting new all-time highs, and accelerated the fall in the US session following the British pound.
The British pound dropped by 220 pips (to 1.3054). On Friday, British PM Teresa May announced that negotiations with the EU on the issue of Brexit had reached a dead end, which caused the euro to fall to 1.1733.
Day's news (GMT 3):
11:00 Germany: IFO business climate (Sep), current assessment (Sep), expectations (Sep).
13:00 UK: CBI industrial trends survey - orders (MoM) (Sep).
15:30 Canada: wholesale sales (MoM) (Jul).
15:30 US: Chicago Fed National Activity Index (Aug).
16:00 Eurozone: Draghi ECB speech.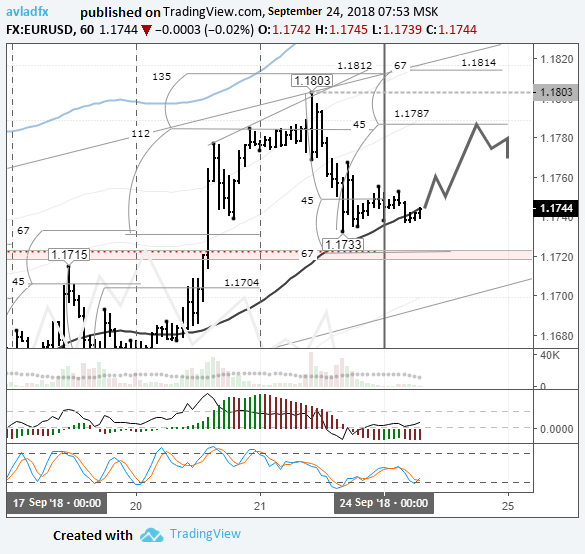 Fig 2. EURUSD hourly chart.
Current situation:
Expectations on Friday were fully justified. The price was adjusted to the lb balance line.

In Asia, the dollar is trading in positive territory, so the euro is now declining along with other major currencies. It currently sits at 1.1734. Euro crosses are almost all in the green zone. With such allies, the support at 1.1725 should stand. I'm seeing a correction in place with regards to Friday's drop.

Now traders have their attention focused on the Federal Reserve System (FRS) meeting, which will be held on the 25th and 26th of September, and Brexit news. As for the meeting, everyone is expecting an a rate increase of 0.25 - up to 2-2.25% per annum. The rate increase is included in the price, so the Fed's trading and commerce will be of interest when it comes to other increases this year.