Previous:
On Wednesday the 26th of September, trading on the euro closed down. High volatility on the pair was observed during the day. The price managed to dip to 1.1726 ahead of the announcement of the Fed decision before returning to 1.1770.
The FOMC decided to raise rates by 0.25 basis points to a range between 2 and 2.25 percent. The decision coincided with market expectations, and was immediately followed by a fall in the US dollar index. Powell's press conference strengthened the dollar. During the press conference Powell confirmed a fourth rate hike for 2018, and a three slated for 2019. The euro fell from 1.1798 to 1.1732, and in Asia to 1.1707.
Day's news (GMT 3):
09:00 Germany: GfK consumer confidence survey (Oct).
11:00 Eurozone: economic bulletin.
12:00 Eurozone: consumer confidence (Sep), industrial confidence (Sep), business climate (Sep), services sentiment (Sep).
14:45 UK: MPC member Haldane speech.
15:00 Germany: CPI (YoY) (Sep).
15:30 US: GDP annualized (Q2), durable goods orders (Aug), initial jobless claims (Sep 21).
16:30 Eurozone: ECB President Draghi's speech.
17:00 US: pending home sales (MoM) (Aug).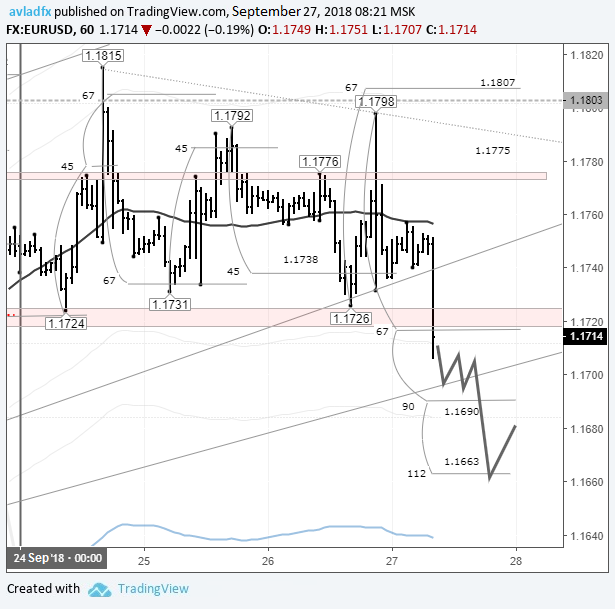 Fig 1. EURUSD hourly chart.
Current situation:
Projections for the EURUSD pair remained unchanged ahead of the US Fed decision. The price fell to 1.1726. During the Asian session, sellers demolished the trend line and the horizontal support (1.1720-1.1735). They themselves opened the way to 1.1635-1.1663.
I think that sellers will be met with resistance from buyers at 1.1697. After a brief consolidation, the decline will continue. As for the news, we should definitely pay attention to the ECB's economic bulletin and MPC Member Haldane's speech. I wouldn't pay much attention to Draghi, Carney, and Powell's speeches. Powell said everything yesterday. Nevertheless, it's worth keeping the time of their speeches in mind if you plan to open or close positions, and also if you wish to set a stop loss.
I have nothing more to add to the chart. I'm waiting for the euro to weaken against the dollar to the 112th degree.