Previous:
On Wednesday the 27th of February, trading on the euro closed down. The bulls couldn't make it past the sell wall at 1.1403. The euro slumped to 1.1362 against the dollar. The trend line and balance line both provided support. The drop was brought about by a sharp rise in US10Y bond yields from 2.631% to 2.6987%.
Day's news (GMT 3):
10:00 UK: Nationwide housing prices (Feb).
10:45 France: consumer spending (Q4), CPI (Feb).
11:00 Switzerland: KOF leading indicator (Feb).
16:00 Germany: harmonised index of consumer prices (Feb).
16:30 Canada: current account (Q4), industrial product price (Jan).
16:30 US: GDP (Q4), initial jobless claims (23 Feb).
16:50 US: Fed's Bostic speech.
17:45 US: Chicago PMI (Feb).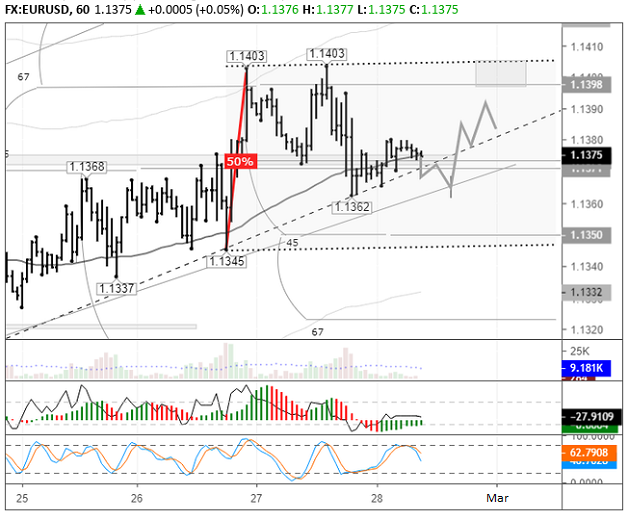 Current situation:
Buyers encountered resistance around the 67th degree. The growth in US10Y bond yields shifted sentiment on the market with regard to the US dollar. The rate returned to the trend line as a portion of market participants closed their long positions.
It's worth noting that the 1.1370 support didn't hold up, so we can now ignore it.
Another important thing to consider is the double top formation at 1.1403. This was activated with the breakout of the 1.1373 low, which can be seen between the two tops. However, I don't consider this a true double top as the rate has already risen above 1.1373 again.
In today's Asian session, trading on the dollar is mixed. It's trading up against the yen and Swiss franc. This is a bad sign for bulls as this means that capital is flowing into the safe haven assets. Today, there should be a press conference to discuss the US-North Korea summit. This may explain why investors have retreated to the yen.
Take note of the support line that runs below the trend line. If there's an attack on 1.1370, there's a high probability of the rate bouncing from 1.1365.  If this bounce makes it as far as 1.1382, we should see a new set of long positions from buyers. If you've done any analysis of the daily timeframe, you'll have seen the resistance at 1.1430 in the form of a trend line drawn from the highs of 1.1569 and 1.1514. I'd like to see a downwards correction take place from here.