Previous:
On Friday the 8th of March, trading on the euro closed up. The euro rose against the dollar throughout all the day's trading sessions. After the release of mixed US jobs data, this rise gathered pace to reach 1.1246.
20k new jobs were created in the US outside the agricultural sector in February. The dollar came under pressure after the report was released as markets had been expecting 180k new jobs. Speculators reacted by shorting the dollar. However, the fall of the US dollar index was mitigated by other factors.
The readings for December and January were revised upwards by 12k; December's by 5k and January's by 7k. US unemployment dropped from 3.9% to 3.8%. Average hourly earnings went up by 0.4% after a rise of 0.1% last month (forecast: 0.3%).
Day's news (GMT 3):
10:00 Germany: industrial production (Jan), trade balance (Jan).
15:30 US: retail sales (Jan).
16:00 UK: BoE's Haskel speech.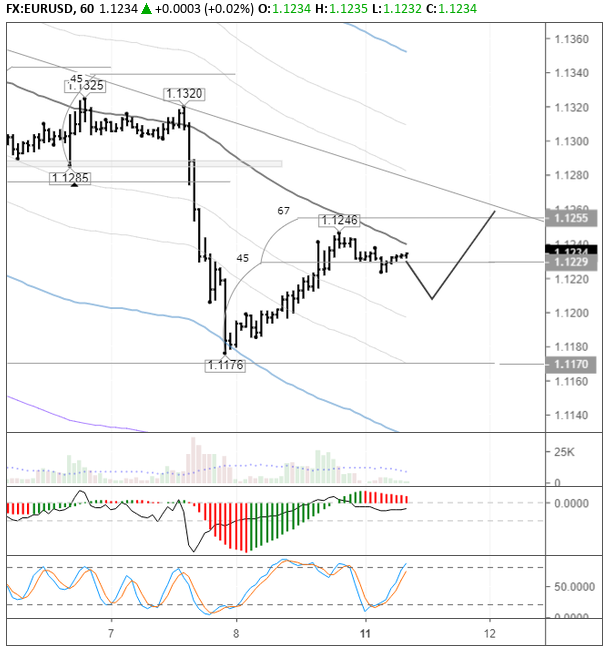 Current situation:
I decided to watch the market from the sidelines on Friday. At the time of writing this review, the euro is trading at 1.1239. The pair has reversed upwards from the D3 line to reach the balance line. The market is in equilibrium on the hourly timeframe. The pair is now ready to diverge from here.
Considering that the economic calendar is virtually empty, and that Friday's price fluctuations were relatively subdued, today I'm forecasting the pair to continue its recovery towards the trend line. At today's 09:00 mark on the chart, the trend line runs through 1.1276. My forecast has the pair meeting the trend line at 1.1258 in the middle of the day. I reckon that before we can rise any further, we need to see a correction to 1.1209. When we reach the trend line, we can expect a new wave of sales on the euro.