Previous:
On Monday the 11th of March, trading on the EURUSD pair closed up. In the US session, the euro rose to 1.1274 against the greenback. Traders has their eyes on the pound which surged by 300 pips to reach 1.3288 against the dollar ahead of Tuesday's Brexit vote. The pair bounced from the reversal zone after reaching the U4 line, which is a rare occurrence on the hourly timeframe.
Markets expect the British parliament to vote down Theresa May's Brexit deal, and then to vote to extend Article 50.
Day's news (GMT 3):
09:30 Australia: RBA's Debelle speech.
12:30 UK: GDP (Jan), industrial production (Jan), manufacturing production (Jan), total trade balance (Jan).
13:45 Eurozone: ECB's Lautenschläger speech.
15:30 US: CPI (Feb).
15:45 US: Fed's Brainard speech.
N/A UK: Parliamentary vote on Brexit.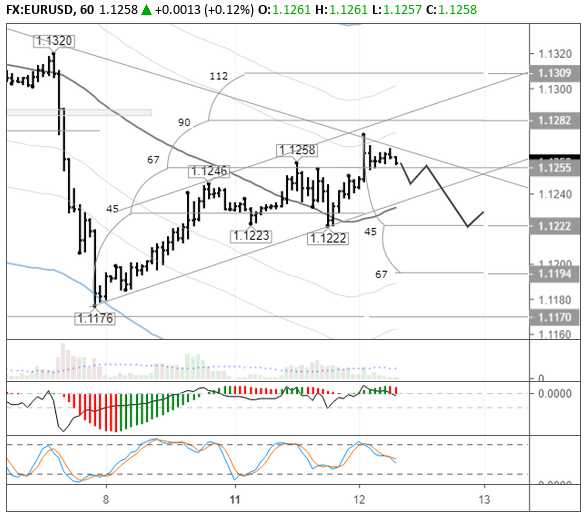 Current situation:
The pair has recovered to the trend line. Despite the collapse of the EURGBP cross, I expect the rate to drop today to the 45th degree at 1.1222. This level marks yesterday's session low, which formed the third point of contact for the upwards channel. Along this channel, there's a support running through 1.1239.
The trend line drawn from 1.1176 has bolstered the balance line, which is moving at the same pace a few pips below. I think it's possible, but unlikely that the pair won't exit the channel. At the same time, if we get a sharp recovery on the crosses, the EURUSD could jump to 1.1340 (catching up with the surging pound).
Today's central focus for traders is the UK parliament's vote on Theresa May's Brexit deal. The pound has surged 300 pips. Markets have already factored in a positive outcome. Now we can expect to see a downwards correction. Considering the significance of this event, I think it better to observe the market from the sidelines. We don't know the exact time of the vote.