Previous:
On Tuesday the 19th of March, trading on the euro closed up. If you ask me, it looks like the pair spent the day in a sideways trend. While the euro strengthened throughout the European session without any serious pullbacks, volatility was higher during the US session. Market participants are a bit shaky ahead of the upcoming Fed decision.
Day's news (GMT 3):
10:00 Germany: PPI (Feb).
12:30 UK: CPI (Feb), retail price index (Feb), PPI – input (Feb), PPI – output (Feb).
14:00 UK: CBI industrial trends survey (Mar).
17:30 US: EIA crude oil stocks change (15 Mar).
21:00 US: Fed interest rate decision, Fed monetary policy statement, FOMC economic projections.
21:30 US: FOMC press conference.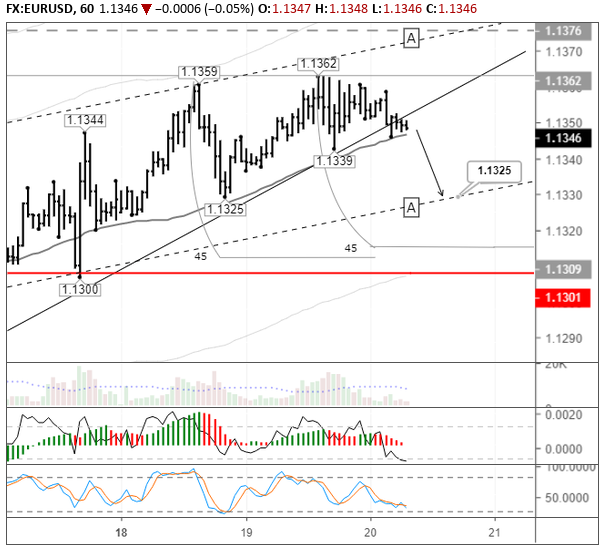 Current situation:
The rise to 1.1360 came to pass just as expected, but the subsequent drop is dragging on due to the Fed meeting. Last week saw the release of weak economic data. Now there are fears that the Fed will soften its rhetoric with regards to monetary policy. No one is expecting interest rates to be changed, however. Everyone is waiting for the FOMC's economic projections and the press conference with Jerome Powell.
In today's Asian session, the technical picture remains the same as far as I'm concerned. I'm keeping my target of 1.1325 at the lower boundary of the A-A channel. The trend line has been broken, but I'm not paying attention to this given the current truncated formation.
Most relevant for me at the moment is the A-A channel. The pair has been hovering around the balance line for the last few hours. I expected the euro to continue heading south as part of a correctional movement. By June, I expect to see the euro at 1.23. Although growth is subdued for the time being, the bigger picture on the monthly timeframe suggests a rising euro.