Last week was pretty rough for the US Dollar. We witnessed an impressive decline after the FOMC meeting followed by a nice recovery on Friday. On most of the currency pairs on the market, USD is trying to recover all its losses from Wednesday. This is not the case on USDJPY, where yes, we do have a correction now, but it is pretty small and does not change the strong bearish sentiment here. USDJPY was on our radar on Thursday when our outlook was also bearish. That was a great call as the price declined sharply.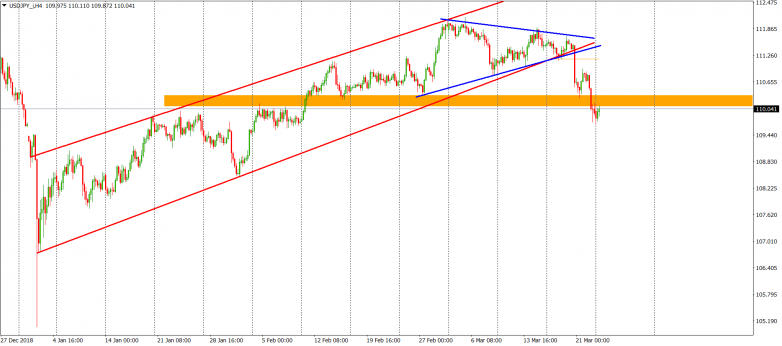 The big picture here is that on Wednesday, sellers managed to break the lower line of the flag pattern (red) and the lower line of the symmetrical triangle formation (blue). That was a combination of a fundamental event (dovish FOMC) and a proper technical setup. When these two factors combine, there can only be one result; a massive drop, which is what happened here. On Friday, sellers additionally managed to break the support around 110.2, even despite the fact that on the other pairs, USD was gaining strength. One of the main reasons for this was the strength of the second currency in this pair – JPY.
From a technical point of view, this pair s pretty much doomed. We've managed to escape from those two patterns, we are below the support, and the long-term trend is now negative. That is bad and buyers should not have big hopes for the future. As long, as we stay below the orange area, the sentiment is negative and the pair should be able to make new mid-term lows.