As you probably know, Wednesday was pretty bad for USD, but by the end of the week, the greenback had managed to recover most of its losses. There is a pair where the drop from Wednesday wasn't even visible – USDCAD. Wednesday's candlestick is bearish, which while true, is not relevant from a technical point of view. Those from Thursday and Friday are, though, as they show us the reversal and the strength of the bulls.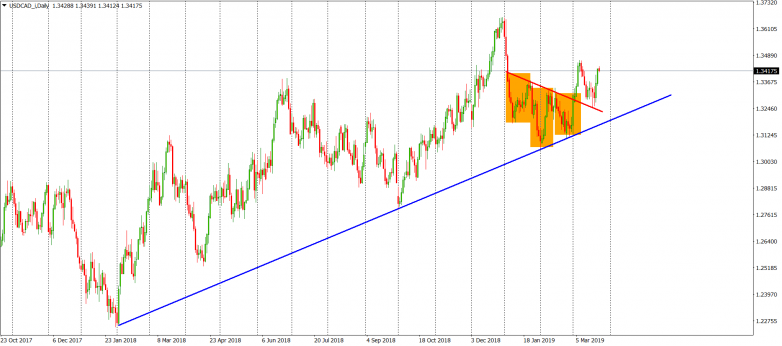 We've got a very strong bullish technical formation on the USDCAD pair; an inverse Head & Shoulders pattern (orange). It's been forming since the beginning of the year and at the beginning of March, we got a breakout of the neckline, which gave us a proper buy signal. In the last week, the pair has tested the broken neckline (red) as the closest support and the result of that test was positive. Along with the price being above the upwards trend line (blue), that gives us a legitimate bullish trading opportunity.
The positive view on this pair is additionally strengthened by the correction on oil, which may be just starting and could drag the value of the Canadian dollar lower. A buy signal will be triggered with a breakout of the blue upwards trend line, but the chances of that happening are currently very limited. As for a target, the highs from December look reasonable, but if we assume that we are still in an upwards channel formation, we should get much higher than those tops.