Previous:
On Thursday the 28th of March, the single currency once again hit a new low against the US dollar. The EURUSD pair reached a new low of 1.1214. During the US session, the pair rose to 1.1236 before entering a sideways trend, where it currently remains.
The major currencies have declined on the back of the US dollar index's rise to 97.30. The greenback's rise was brought about by a retreat from risky assets as well as a rise in US bond yields from 2.35% to 2.41%.
Day's news (GMT 3):
10:00 Germany: retail sales (Feb).
10:45 France: CPI (Mar), consumer spending (Feb).
11:00 Switzerland: KOF leading indicator (Mar).
11:55 Germany: unemployment rate (Mar), unemployment change (Mar).
12:30 UK: current account (Q4), GDP (Q4), total business investment (Q4), net lending to individuals (Feb), mortgage approvals (Feb).
15:30 Canada: GDP (Jan), industrial product price (Feb).
15:30 US: personal spending (Jan), personal income (Jan).
16:45 US: Chicago PMI (Mar).
17:00 US: new home sales (Feb), Michigan consumer sentiment index (Mar).
20:00 US: Baker Hughes US oil rig count.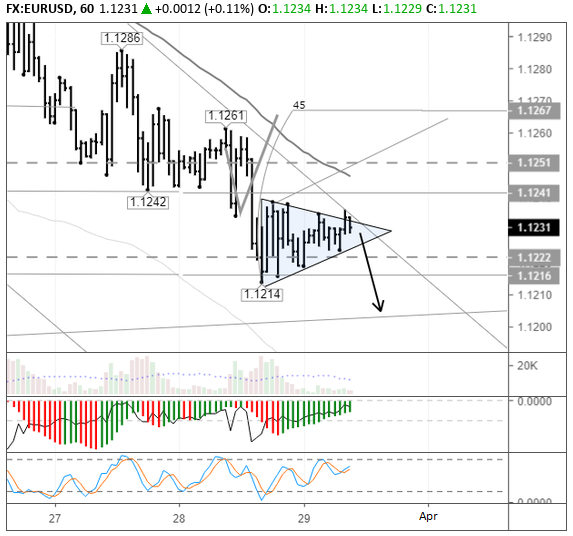 Current situation:
I've left yesterday's markings on the chart. The bears went on the attack as trading opened in Europe, triggering the stop levels below 1.1240. The bulls bought up the euro from 1.1234. From 1.1259, the drop recommenced with renewed strength. Now we're in the same situation, with the pair consolidating at 1.1229. Before moving downwards, the pair could head back to 1.1339 to trigger some stop levels before dropping to 1.1214. The bearish trend is getting weaker. Shorting is becoming riskier.
Today's central focus for traders will be the votes in the British parliament. The UK was supposed to leave the EU on the 29th of March, but an agreement still has yet to be reached.
US officials were in Beijing for another round of trade talks. These talks will be picked up again in Washington next week. China looks ready to compromise, so keep an eye on the headlines. Progress in these talks means an increased appetite for risk and a stronger euro. If we look at technical analysis, the bears are preventing the euro from undergoing a proper correction as they've got their eyes on 1.1205. I reckon that they will start to take profit on their short positions at around 1.1200.