The second half of March was great for the Russian ruble. The main reasons for that were the strong uptrend on oil and the recent positive sentiment towards emerging markets. The new month hasn't started off so well though. Instead of continuing the drop, USDRUB is aiming higher, possibly starting a new mid-term uptrend.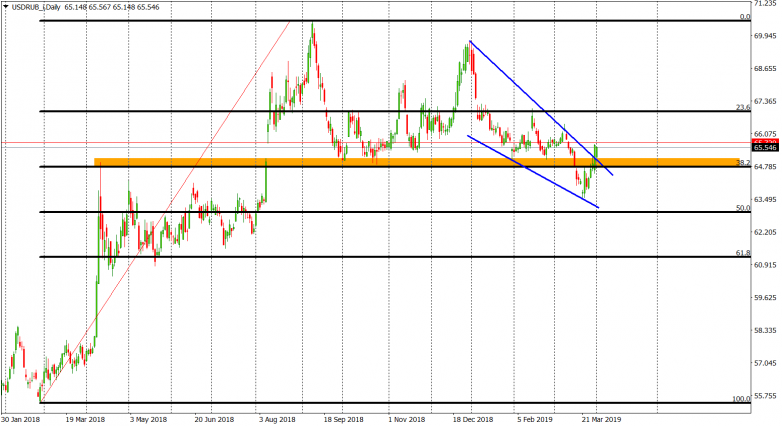 A few days ago, the technical situation was favoring the short side of the market. The price was under the super important resistance at 65 and the 38.2% Fibonacci. Sellers could have been optimistic thanks to the big double top formation that has been forming for the past few months. I have to tell you that it was all looking really sweet. April crashed the bearish dreams though. The pair didn't manage to defend that line as the closest resistance and the area was broken. What's more, the price created a wedge (blue lines) and the breakout of its upper line promotes a further rise. That is my current scenario for this instrument.
Positive sentiment will be denied if the pair breaks the orange line again, but this time from the top. As long as we stay above it, the buy signal is on and we should see a further upswing. The first target is at 23.6% Fibo and the chances that we will get there are quite high.