Previous:
On Wednesday the 3rd of April, trading on the euro closed up. The bulls pushed the pair up to 1.1255, but were unable to stay above the 1.1250 resistance. In the US session, the bulls retreated to 1.1225. Their second attempt at breaking 1.1250 also fell short, and trading on the pair stabilised at 1.1240. On the hourly timeframe, the conditions look ripe for an upwards impulse.
The bulls are drawing their strength from expectations that the US and China will conclude a trade deal, and that the Brexit deadlock will be broken. A bill to prevent a no-deal Brexit was passed by the House of Commons at the third reading. Now the government needs to discuss alternative options with other party leaders and reach an agreement on how to proceed.
Day's news (GMT 3):
09:00 Germany: factory orders (Feb).
14:30 Eurozone: ECB monetary policy meeting accounts.
15:30 US: initial jobless claims (29 Mar).
17:00 Canada: Ivey PMI (Mar).
20:00 US: Fed's Mester speech.
23:00 US: Fed's Williams speech.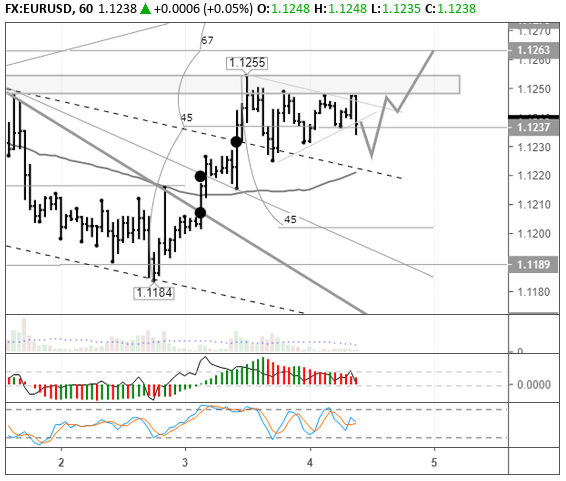 Current situation:
A symmetrical triangle has formed around 1.1240 over the last few hours. The triangle is a trend continuation pattern, but could appear an order lower in the wave structure. If we suppose this is an a-b-c correction, then the triangle is wave b.
Trading robots have changed the market situation, so we often see false movements and breakouts when constructing pricing models. Big market players need classical technical analysis to know where the crowd will place their stop levels, and then they make use of newsfeeds and investment ideas to get their background information and push prices in their direction.
A good example is the bitcoin rally from the 2nd of April. The price rose by nearly 1,000 USD ( 20%) on the back of stop levels being triggered on short positions. The big players entered the market on the rebound. Some people managed to do some scalping during this movement, but they quickly closed their positions as the spread reached 25 USD at one point.
Given the current situation, I'm still expecting a rise to 1.1263 (67 degrees). If the pair doesn't drop any lower, we can expect the pair to go as high as 1.1273.