Previous:
On Monday the 8th of April, trading on the euro closed up. The bulls initially broke through the resistance at 1.1240 with some help from the crosses. In the US session, this rise gathered pace to reach 1.1274. Traders are now waiting for a trade deal between China and the US to be finalised, as well as for results on a Brexit vote. The worst case scenarios have already been factored into the price. Long positions on the dollar are being closed ahead of the publication of the FOMC minutes for their March meeting.
Day's news (GMT 3):
17:00 US: JOLTS job openings (Feb).
23:30 US: API weekly crude oil stock (5 Apr).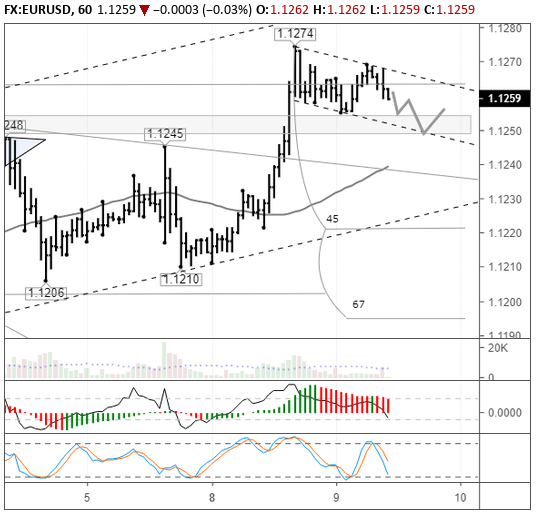 Current situation:
Bulls have broken through the resistance zone of 1.1250 – 1.1254 on the back of a weak dollar. The euro is currently trading at 1.1270 against the greenback. The bulls are trying to press forward, but with all the euro crosses trading down except for EURCHF, the single currency is under pressure.
There are two important events planned for Wednesday: the ECB meeting and subsequent press conference with Mario Draghi, and the publication of the FOMC minutes from March. If we add some new Brexit headlines to the mix, it will be a very volatile trading day.
The economic calendar is empty today, so today I'm expecting a retest of yesterday's resistance as a support. The price is approaching the support from above and there is nothing stopping the bulls from shifting it up along the upwards channel.