Previous:
On Tuesday the 9th of April, trading on the euro closed slightly down. On the back of Brexit rumours and the rising crosses, the EURUSD pair jumped to 1.1284 during the first half of the European session. Ahead of the ECB's monetary policy meeting, the pair returned to the 1.1255 support.
Day's news (GMT 3):
11:30 UK: GDP (Feb), industrial production (Feb), manufacturing production (Feb), trade balance (Feb).
14:45 Eurozone: ECB interest rate decision.
15:30 Eurozone: ECB monetary policy statement and press conference.
15:30 US: CPI (Mar).
20:30 US: EIA crude oil stocks change (5 Apr).
21:00 US: FOMC minutes.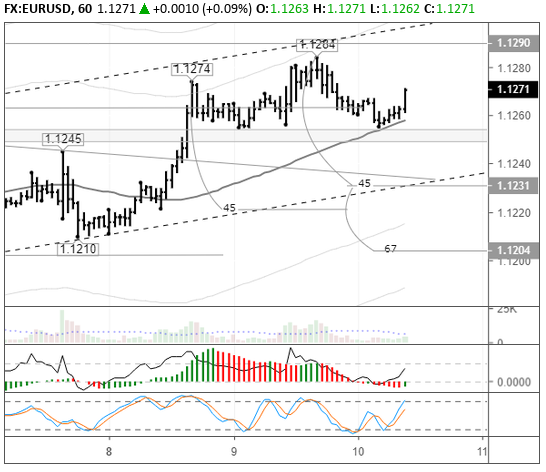 Current situation:
The pair returned to the support and the balance line from which it has rebounded upwards. The pair is now trading at 1.1272. The ECB's meeting and subsequent press conference with Mario Draghi are at the centre of attention today, along with the FOMC minutes and the EU summit, where officials will discuss moving the UK's date of exit to the 30th of June.
The UK parliament has approved Theresa May's plan to move the date of departure from the EU from the 12th of April to the 30th of June. Today, Theresa May will meet with the heads of state of Germany and France. Brexit is already factored in by markets, although individual headlines can still have short-term effects on day traders.
Now everyone is looking at the increased trade tensions between the EU and US. The US is planning to impose import tariffs on the EU to the tune of 11b USD, including on civilian aircraft and agricultural products. This is bad for the euro. I think that markets will start to factor in these trade tensions after Mario Draghi's speech. On the daily timeframe, yesterday's candlestick closed with a long tail; a bearish signal.