Previous:
On Wednesday the 10th of April, trading on the euro closed up. Volatility was high on all currency pairs with the euro, especially during ECB President Mario Draghi's speech. During his remarks, the euro shed 56 pips to reach 1.1230. This was a purposeful decline, but by the end of the day, the bulls recovered all their losses on the back of a weakened US dollar.
The European Central Bank's meeting ended with monetary policy unchanged and interest rates remaining at their current levels. During his press conference, Mario Draghi warned about risks to economic growth in the Eurozone amid geopolitical uncertainty. The regulator has downgraded its inflation forecast for the Eurozone, and believes that some significant economic stimulus is needed. Details of the new TLTRO program will be announced in the coming meetings.
Day's news (GMT 3):
15:30 Canada: new housing price index (Feb).
15:30 US: PPI (Mar), initial jobless claims (5 Apr).
16:30 US: Fed's Clarida speech.
16:40 US: Fed's Bullard speech.
23:00 US: Fed's Bowman speech.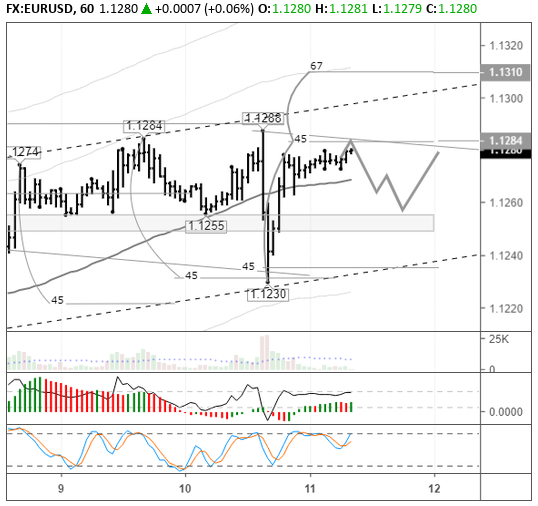 Current situation:
The drop and subsequent rebound both amounted to 45 degrees. The payrolls report and Mario Draghi's press conference are now behind us. Following an EU summit, a new Brexit date of the 31st of October has been approved. Now that this has been resolved, traders will turn their attentions towards the US and China, as well as US bond yields.
After yesterday's intraday spike, I expect a drop from the 45th degree to 1.1256. If the pair rebounds from here and returns to 1.1280, I expect to see a further rise to 1.1310. The LB line is acting as an intermediate support at 1.1268.