Previous:
On Thursday the 11th of April, trading on the EURUSD pair closed down, with the single currency dropping to 1.1250. To me, this seemed to be a downwards correction within a wider upwards movement. The dollar's rise was brought about by strong US data and rising US10Y bond yields.
PPI data and initial jobless claims figures in the US decreased the likelihood of an interest rate reduction by the Fed at the end of the year.
Day's news (GMT 3):
12:00 Eurozone: industrial production (Feb).
15:30 US: import price index (Mar).
17:00 US: Michigan consumer sentiment index (Apr).
20:00 US: Baker Hughes US oil rig count.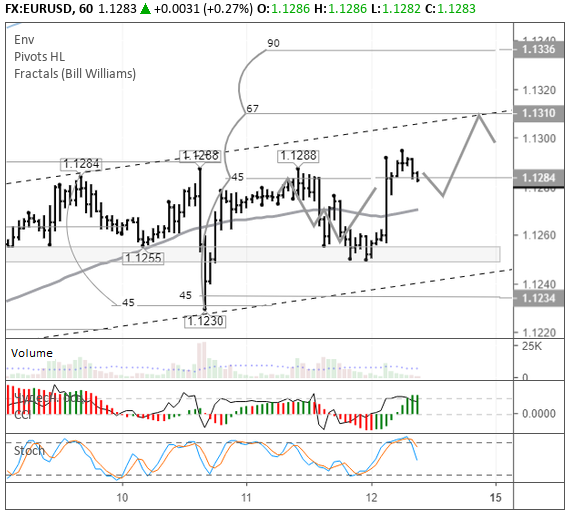 Current situation:
The 1.1249 – 1.1255 support held up. From here, we got a sharp upwards impulse to reach 1.1295. As I see it, from a technical standpoint, this was expected, but at the same time, it's my understanding that this was brought about by fundamental rather than technical factors.
The Federal Reserve is unlikely to consider appointing Herman Cain to the Board of Governors. Donald Trump, who is said to be unhappy with the Fed, is reportedly planning to put him forward as a potential candidate in an attempt to align the Fed more closely with his own views.
Yesterday I wrote that if the pair returns to 1.1280, I expected the euro's rally to continue to 1.1310. Today the euro is one of the biggest growers against the US dollar. All the euro crosses are trading up. The technicals look good for a further rise on the EURUSD pair. If we get a breakout of the channel, the road to 1.1362 will be open.