Previous:
Last week, the major currencies all gained ground against the US dollar, except for the safe havens. The Aussie dollar gained 0.97% against the greenback, while the euro rose by 0.75%, the Kiwi dollar by 0.44%, the Canadian dollar by 0.42%, and the pound by 0.32%. The yen, on the other hand, shed 0.27%, with the Swiss franc losing 0.23%.
Trading on the euro closed up on Friday. The day's trading witnessed two strong bullish waves. The first occurred during the Asian session, and the second during trading in Europe. The euro rose to 1.1324 on the back of these. In the US session, the bulls retreated from this high to 1.1293. This correction was brought about by some players cashing in on their positions ahead of the weekend.
The Michigan consumer sentiment index came out at 96.9 points against a forecast of 98.0 and a previous reading of 98.4.
Day's news (GMT 3):
13:00 Germany: German Buba monthly report.
15:30 US: NY Empire State manufacturing index (Apr).
17:30 Canada: Bank of Canada business outlook survey.
19:00 BoE's Haskell speech.
20:00 US: Fed's Evans speech.
23:00 US: net long-term TIC flows (Feb), total net TIC flows (Feb).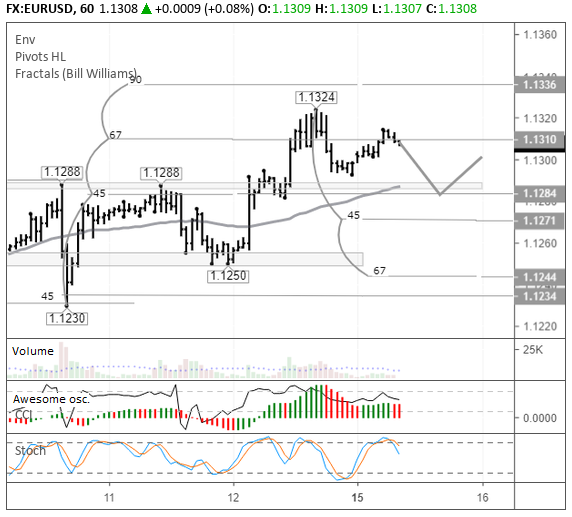 Current situation:
My expectations for Friday were met, with trading on the euro closing up. I don't think that 1.1324 was the end of this movement. Today is Monday; the first trading day of the week. Since the euro has been rising against the dollar in this morning's Asian session, I expect a drop to the balance line during trading in Europe with a subsequent upwards rebound. Here, I'm expecting to see a three-wave structure form from 1.1324 to 1.1284. From the support zone at 1.1280/85, we can set our sights on 1.1365 and 1.1390. A drop to the 45th degree will significantly hamper the growth prospects of the EURUSD pair.
There is an alternative scenario by which the pair could rise to 1.1337, after which we'll get a downwards correction to 1.1270.