The full Risk ON mode on the market continues. Safe haven assets, such as JPY and gold, are on the decline, and riskier assets (such as stocks and EM currencies) are heading north. In this environment, USD is pretty stable. Yes, the dollar is weaker on the EURUSD and AUDUSD pairs, but at the same time, USDJPY is making new mid-term highs. We can say that the DXY has not been very volatile recently and the price is yet to find a proper direction. Some of the instruments have already found one. In this piece, we will write about AUDUSD, where we can see a nice buy signal, which could be the start of a new long-term trend.
First, some fundamentals. AUD is climbing higher for a few reasons. First, we can mention recent hawkish comments from RBA officials. What is more, we had some nice trade balance data from China, which was not only promoting China itself but also their trading partners, including Australia, with AUD benefitting in particular. Another thing is the potential trade agreement between the US and China, which is looking very likely. As we can see from this, the fundamental support for the stronger AUD is pretty solid.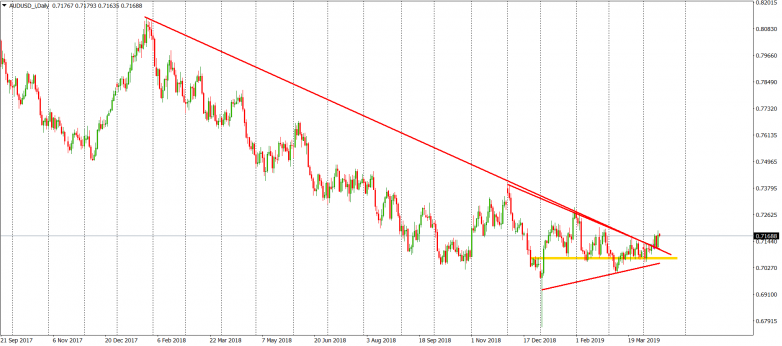 From a technical point of view, it looks even better. Last week, the price managed to break and defend the long-term downwards trend line, which has been connecting lower highs since the end of January 2018. At the same time, buyers broke the upper line of the mid-term symmetrical triangle and the horizontal resistance at 0.713. After the breakout, demand managed to defend those areas as supports, and from a technical point of view, that is a clear buy signal.
Positive sentiment will be denied if we drop below the orange support, which for now is not very likely to happen. Our first target is around 0.734, which gives us an opportunity for around 170 pips.