Previous:
Most of the majors closed last week down against USD. The Swiss franc fell by 1.15%, the Kiwi dollar by 1.12%, the pound by 0.55%, the euro by 0.49%, the Canadian dollar by 0.49%, and the Aussie dollar by 0.30%. Only the Japanese yen gained ground against the dollar with a rise of 0.08%. Over the course of Good Friday, the euro dropped to 1.1226 before recovering to 1.1248.
Day's news (GMT 3):
Easter Monday: many exchanges closed.
15:30 US: Chicago Fed national activity index (Mar).
17:00 US: existing home sales (Mar).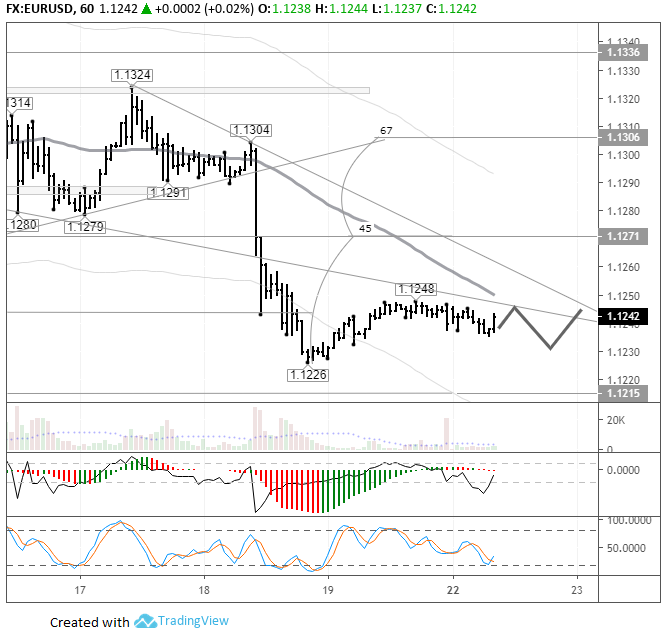 Current situation:
Market activity is low due to the holidays. A lot of European markets are still closed today due to Easter Monday celebrations. Trading is still occurring, but with low volumes. On the hourly timeframe, our pair is in a downwards trend, so the downside risk remains.
Oil prices made some significant gains in Monday's Asian session. This pushed the Canadian dollar into positive territory, while the other majors remain down. Oil rose on reports that the US is trying to sway countries away from Iranian oil.
Patterns and cycles indicate a flat, with a collapse expected on Tuesday and a fresh low on Thursday. It's also possible we could get a rise to 1.1271, but this is very unlikely. For this to happen, the bulls need to break through both 1.1248 and 1.1255.