Donald Trump's tweets increasing tension around the ongoing trade war and John Bolton's words about a possible war with Iran are successfully killing the mood on the market, shifting trader attention towards the safe haven assets. In this piece, we will look at USDCHF, representing two safe heaven currencies together and we will try to evaluate which one has a better chance of mid-term success.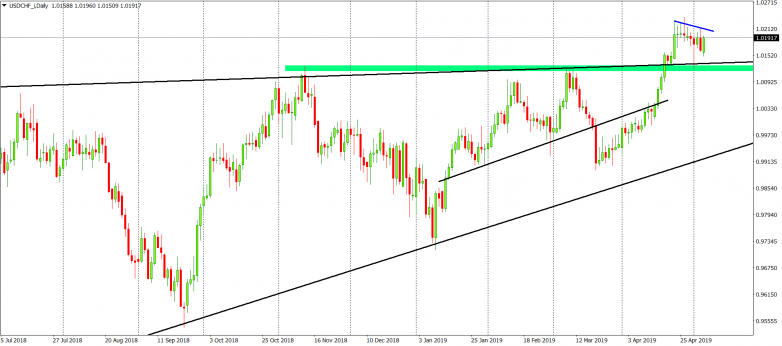 The fundamentals in terms of the global situation are pretty much the same for both assets. The countries' economies are in two different positions, however. Switzerland is not thinking about increasing interest rates. USA is in this cycle and has already raised them a few times. This difference can be easily seen on the chart, as the pair is in a healthy bullish trend, with an opportunity for more. The latest buy signal was triggered here in the middle of April when the price broke the dynamic and the horizontal resistances. According to the rules of price action, a broken resistance should be tested as a support. This test happened on the first day of May and resulted in a beautiful hammer on the daily chart. Such a candle in such a place is always a good omen and can be treated as a buy signal. Today, the positive sentiment is strengthened by the fact that the pair is trying to draw a bullish engulfing pattern, which is going pretty well so far.
The positive sentiment will be cancelled if the pair comes back below the green line. The chances of that are rather low. A proper buy signal will be triggered with a breakout of the small blue downwards trend line, which is currently limiting the bearish correction. That option looks much more probable at the moment.