Previous:
The major currencies showed mixed dynamics against the US dollar last week. The biggest drop came from the pound (-0.65%), followed by the Canadian dollar (-0.55%), the euro (-0.32%), and the New Zealand dollar (-0.25%). The yen (+0.92%), Australian dollar (+0.15%), and Swiss franc (+0.10%) were the only currencies to make gains.
On Friday the single currency rose to 1.1169 against the greenback on the back of a broadly weaker dollar. This decline just ahead of the weekend may have been brought about by comments made by US Fed vice chair Richard Clarida, who said that he was open to the prospect of cutting rates if the economic outlook worsens.
Day's news (GMT+3):
11:30 UK: Markit manufacturing PMI (May).
16:45 US: Markit manufacturing PMI (May).
17:00 US: ISM manufacturing PMI (May).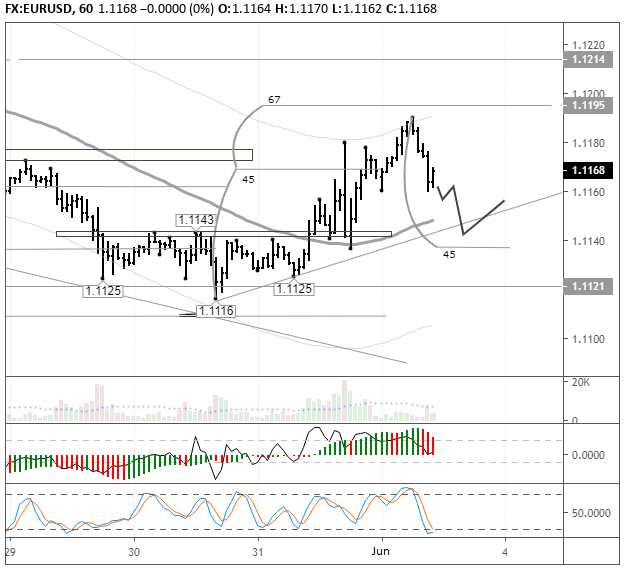 Current situation:
The euro rose to 1.1190 in the Asian session. At the time of writing, the EURUSD pair is trading at 1.1168. Considering the new complications in US trade relations with China and Mexico, the euro's rise may be temporary.
The imposition of tariffs on Mexican goods marks an escalation in the conflict between the US and its external trade partners. As such, a retreat towards safe haven assets could begin at any moment, which will send the euro back down.
Today I expect to see a drop to 1.1140. I'm not expecting a serious decline, because the prospect of the Fed slashing rates at the end of the year has taken centre stage. In connection with increased trade tensions, JP Morgan is predicting a rate reduction from the Federal Reserve in September.