Previous:
On Thursday the 6th of June, the euro closed the day at 1.1276 against the dollar. The pair hit an intraday high of 1.1309. The euro rose sharply against the dollar following the ECB meeting.
The European Central Bank announced that it would hold off on raising interest rates until the middle of next year. It also set out new terms under which banks would be able to borrow from the ECB as part of a new targeted longer-term refinancing operation (TLTRO). Eligible banks will get a deposit rate of up to 0.3% on loans provided they meet a certain benchmark for net lending.
The lack of any clear signs of easing monetary policy pushed the euro up to 1.1309.
Day's news (GMT 3):
10:30 UK: Halifax house prices (May).
11:30 UK: consumer inflation expectations.
15:30 Canada: net change in employment (May), unemployment rate (May), capacity utilisation (Q1).
15:30 US: unemployment rate (May), nonfarm payrolls (May), average hourly earnings (May), average weekly hours (May), labour force participation rate (May).
20:00 US: Baker Hughes US oil rig count.
22:00 US: consumer credit change (Apr).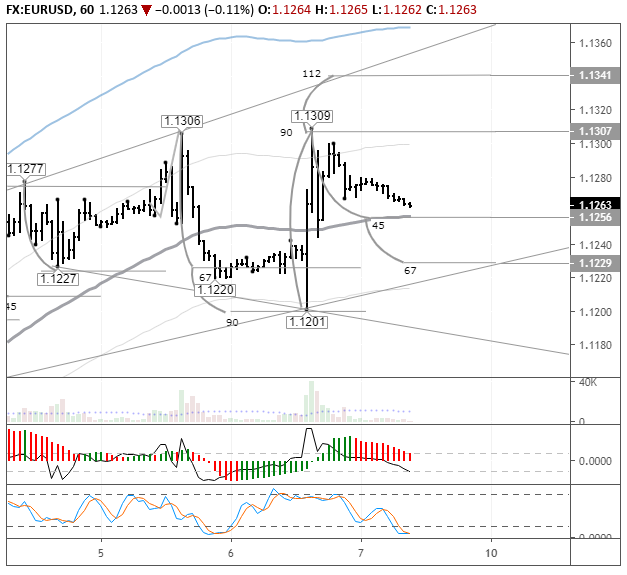 Current situation:
From its high of 1.1309, the euro corrected to 1.1264. The pair is trading around the LB balance line and the 45th degree. We're gearing towards a sideways trend up until the US session. We expect a surge in volatility following the release of the US employment report. The report is important for the Federal Reserve, so expect some sharp fluctuations around this time.
After the payrolls report, attention will turn back towards the ongoing trade wars.US President Donald Trump announced that if the two sides fail to reach an agreement, he will impose new import tariffs. Rating agency Fitch has downgraded Mexico's credit rating to BBB.
The EURUSD has been swinging so much over the past two days that it should now consolidate over the next few days before finding its feet. There's a support at 1.1235 and a resistance at 1.1308. I didn't make a forecast yesterday due to Mario Draghi's speech. Today, I'm not making one because of the payrolls report.