Last week, from a fundamental point of view, was super interesting for EURUSD. We had new policy insights from ECB and FED. I think that till now, everything was already repeatedly commented and analysed in all media by many experts. In this piece, we will focus mostly on the technical analysis. Yes, fundamentals can show you the way but at the end of the day, what counts is what traders will do with that information. In the case of the EURUSD, the final outcome was simple: buy.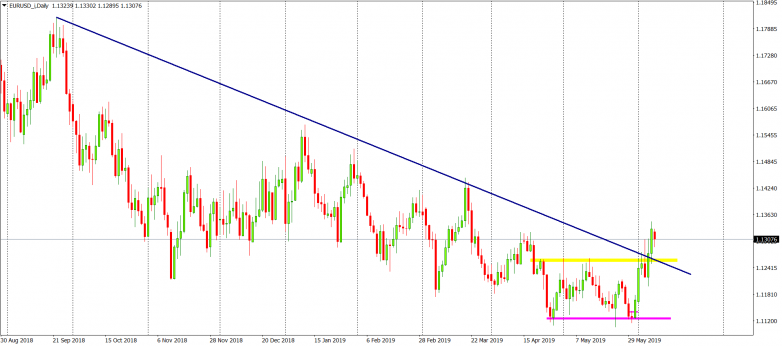 Over the course of April and May, EURUSD created a large double bottom formation. The first bottom was created at the end of April and the second one at the end of May. On Thursday, thanks to the ECB and Mario Draghi, the price went significantly higher, breaking the neckline of this reversal pattern (yellow, around 1.126). Along with the neckline, the price broke the major downwards trend line (black), which was connecting lower highs since September 2019. Closing the day above those two was a clear signal to go long.
Today, traders are witnessing a bearish correction. This kind of movement can be perceived as normal and should not worry euro bulls. As long as the price is above the yellow line, the sentiment is positive and we should see a further rise. Positive sentiment will be denied if the price closes the day below the black line, which for now, is not very likely to happen.