Previous:
On Wednesday the 12th of June, trading on the EURUSD pair closed down. I reckon the pair was dragged down by the British pound. It dropped to 1.1283 after the House of Commons voted against the opposition's proposal to block a no-deal Brexit.
The dollar's rise is being held back by the trade dispute between the US and China, as well as market expectations that the Federal Reserve plans to cut interest rates. It remains to be seen whether the Chinese president will go to the G20 summit or not. US President Donald Trump has taken a hardline stance against China, threatening to impose tariffs on China to the tune of 325bn USD if he doesn't get to meet with Xi Jinping.
Day's news (GMT 3):
10:30 Switzerland: SNB interest rate decision.
11:00 Switzerland: SNB press conference.
12:00 Eurozone: industrial production (Apr).
15:30 Canada: new housing price index (Apr).
15:30 US: import price index (May), initial jobless claims (7 Jun).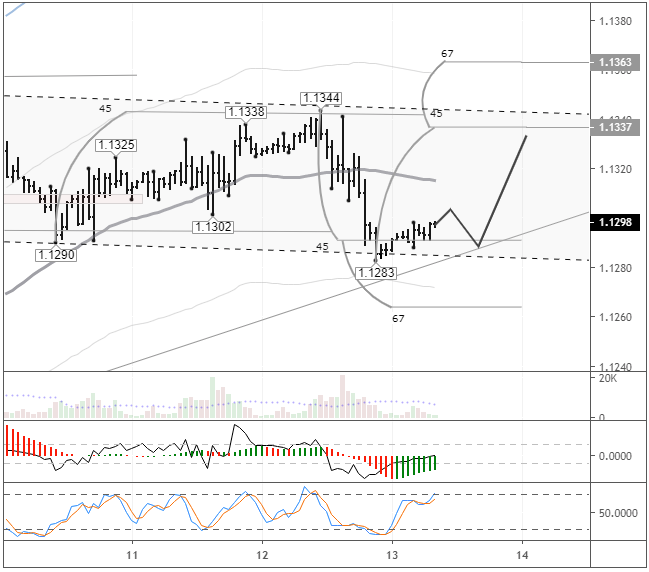 Current situation:
The session low was recorded at 1.1288. At the time of writing, the EURUSD pair is trading at 1.1298. The lower line of the sideways channel and the trend line intersect at 1.1284. The 45th degree is at 1.1291. The support is strong, so I'm expecting the pair to recover to 1.1333/35. I can't see the pair rising any further than 1.1340, however, due to the continued uncertainty over trade between the US and China. Trump is expecting to conclude a deal.
If we make it to the 45th degree quickly, we can expect the stop levels at 1.1348 to be triggered. Since our given range is horizontal, growth after the breakout should be tempered. We should see markets start to trend in the US session. The stochastic should enter the buy zone before trading gets underway in America.