The dollar was doing great at the end of last week, but the new week has started with a reversal. Quite significant one, to be honest with you. Market commentators blame the weaker Empire State manufacturing index, but this is a bit weird because I do not remember a time when this data actually meant something. This isn't the best explanation of today's movement but markets always need one, so here we are.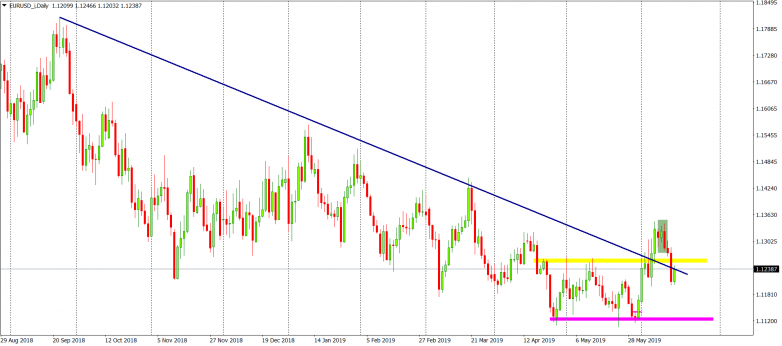 In this piece, let me focus more on the technical side of the market, which was looking extremely bearish on Friday. On the last day of the previous week, the price managed to close the daily candlestick below two crucial supports. The first one was long-term down trendline and the second one was a horizontal line around 1.126. The price being above those two was a buy signal and the price coming back below is a strong sell signal based on the false bullish breakout.
As we said, today's sentiment is against the USD, so the main pair is climbing higher. From a technical point of view, this is just a correction, and as long as we stay below 1.126 (yellow), the sell signal is still in play. In today's calendar, we have a speech from Mario Draghi, so potentially a very influential event. Traders who try to avoid risk as much as possible should treat the EURUSD as a no-go zone.