The whole of last week was positive for USD and negative for oil. Why is it important here? The reason for this is that the price of oil is very influential for the Canadian dollar. CAD is considered to be a commodity currency, so it rises when the prices of commodities (metals, energy) go up. Conversely, CAD loses out when commodity prices decline. So in a situation like this, we should see some nice gains on the USDCAD pair. Is that really the case right now?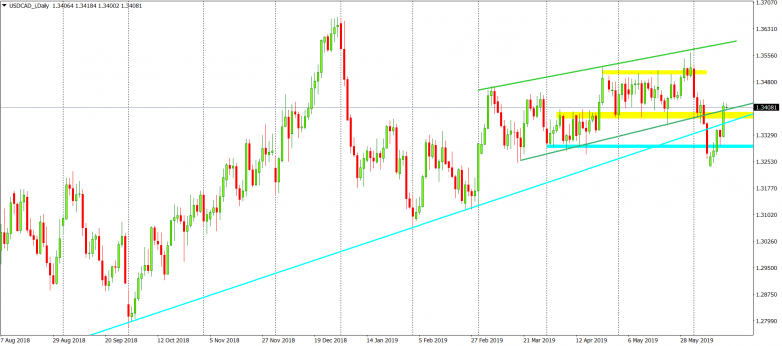 Yes! USDCAD is climbing higher despite the strong sell signal from the 7th of June. Wait, what? Yes, on the 7th of June, we received a crucial sell signal for this instrument, but it happened to be a fake one. False breakouts are considered to be very good trading occasions. Trading in the opposite direction to the original breakout. In our case, that means buy. Our bullish outlook is additionally strengthened by the fact that USDCAD is already back above FOUR recent supports. We have a major upwards trend line, then the horizontal support at 1.33 and 1.338. On top of that, we are also back above the lower line of the small upwards channel formation (green).
Price action is telling us that the vast majority of traders here are bullish. Positive sentiment towards this instrument will be cancelled if we get a breakout of the blue support. This option currently seems less likely to happen.