Previous:
On Monday, trading on the euro closed slightly up. Following Friday's drop, the pair corrected to 1.1247 during yesterday's European session. Sales recommenced from the balance line. This was to be expected, as the MA channels indicated a new bearish trend.
Market activity was low as traders began turning their attention towards the FOMC meeting, which begins today. The regulator could drop some hints as to when they will lower interest rates. Markets have already factored in a rate slash at the end of the year, but it could come sooner than expected.
Day's news (GMT 3):
12:00 Germany: ZEW survey – economic sentiment (Jun).
12:00 Eurozone: ZEW survey – economic sentiment (Jun), trade balance (Apr), CPI (May).
15:30 Canada: manufacturing shipments (Apr).
15:30 US: building permits (May), housing starts (May).
17:00 UK: BoE's Governor Carney speech.
17:00 Eurozone: ECB's President Draghi speech.
23:30 US: API weekly crude oil stock (14 Jun).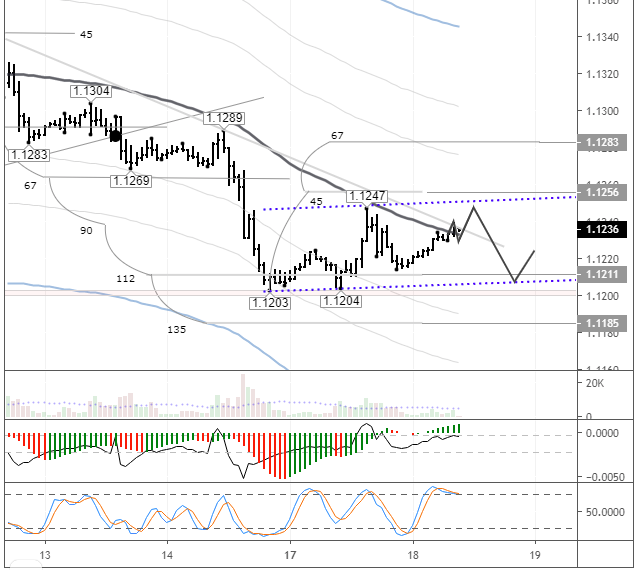 Current situation:
Yesterday's expectations were met in full. The pair recovered to the LB balance line (SMA with a period of 55). After dropping to 1.1214, the pair again returned to the trend line (started from the 1.1344 high).
At the time of writing, the euro is trading at 1.1234. Since the euro crosses are trading up, and the stochastic is in the sell zone, I'm expecting to see a breakout of the trend line, with the pair subsequently being dragged to 1.1250, followed by a drop to the lower boundary of the horizontal channel. The Fed will make an interest rate decision on Wednesday, so the rate is unlikely to stray far from 1.1235. I think the pair will keep trading within the blue channel shown on the chart.