Previous:
On Tuesday the 18th of June, trading on the euro closed down. The single currency dropped across the board following ECB President Mario Draghi's speech. He signaled that cutting the key rate remained an option for the central bank. If the economic growth slows, the regulator will be quick to ease its monetary policy.
The pair's drop came to an end at 1.1181. It then recovered to 1.1213, and was trading at 1.1193 at the latest quote. This bounce was brought about by a Trump tweet, which said that extended trade talks were set to resume with China at the G20 summit in Japan next week. The tweet boosted stocks and the market's appetite for risk.
Day's news (GMT 3):
11:30 UK: CPI (May), retail price index (May), PPI – input (May), PPI (output).
15:30 Canada: CPI (May).
16:00 Switzerland: SNB quarterly bulletin (Q2).
17:00 Eurozone: ECB's President Draghi speech.
17:30 US: EIA crude oil stocks change (14 Jun).
21:00 US: Fed interest rate decision, Fed's monetary policy statement, FOMC economic projections.
21:30 US: FOMC press conference.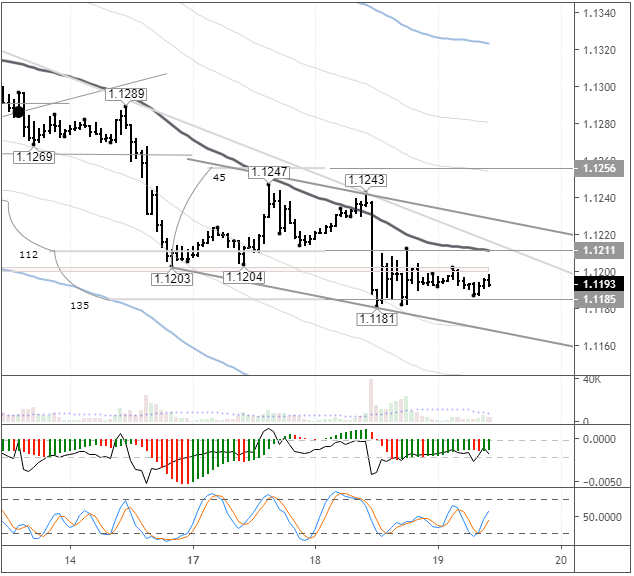 Current situation:
Expectations of a decline on the euro were met thanks to Mario Draghi. All we needed were a few minutes to reach our forecasted target. It was surprising just how much of an influence Draghi managed to have on the market. This level of influence is usually only seen during the press conferences that follow ECB meetings.
I've decided not to make a forecast today given that all eyes are on the US Federal Reserve's meeting and the subsequent press conference with Jerome Powell. The pair has been consolidating around the 1.1180 support for the last 22 hours. Most of the euro crosses are trading up, so the EURUSD should remain at around 1.1195 for the next few hours. If we consider Draghi's remarks from yesterday, the road towards 1.1165 is open for the bears. Markets are waiting for updated economic projections on the US economy and Jerome Powell's press conference.