Previous:
On Thursday the 20th of June, trading on the euro closed up. The euro made gains against the dollar on the back of a rising EURGBP cross and a broadly weaker dollar, which slid over expectations of a rate slash by the US Fed. Rising oil prices provided additional support to the majors via commodity currencies. The EURUSD pair reached the 1.1316 mark, after which it underwent a correction to 1.1271.
Brent oil rose by 3.8% to 64.78. This occurred in response to Iran shooting down a US drone, along with America's response, increasing tensions in the Middle East.
Day's news (GMT 3):
10:30 Germany: Markit manufacturing PMI (Jun).
11:00 Eurozone: Markit PMI composite (Jun).
11:30 UK: public sector net borrowing (May).
15:00 UK: BoE quarterly bulletin (Q2).
15:30 Canada: retail sales (Apr).
16:45 US: Markit manufacturing PMI (Jun), Markit services PMI (Jun).
17:00 US: existing home sales (May).
20:00 US: Baker Hughes US oil rig count.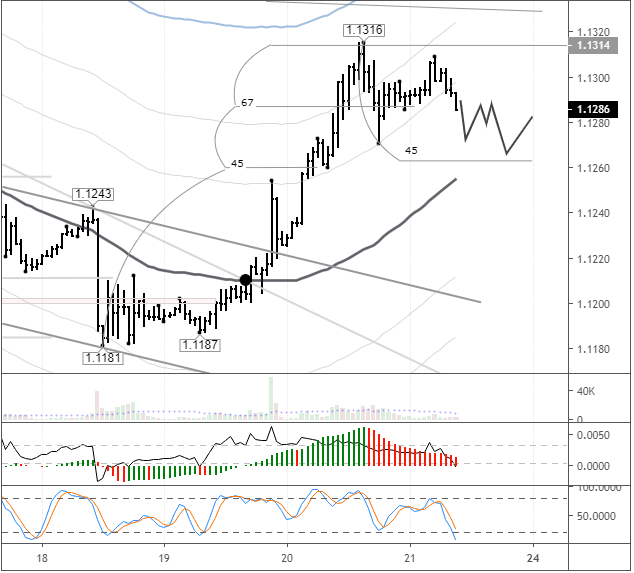 Current situation:
At the time of writing, the euro is trading at 1.1284. Buyers are having a difficult time in today's Asian session. After the drone incident, US President Donald Trump approved air strikes on Iran. He called them off later, but giving the order again at any moment would be very much his style. Details of this incident were reported by the New York Times.
Talk of interest rates has been replaced on the front pages by the situation in the Middle East. The ongoing retreat towards safe havens could trigger a big correction on the euro. As of now, I'm expecting a downwards correction to the 45th degree at 1.1263. If the pair drops faster than forecasted, it should fall as far as 1.1255/50.