Previous:
On Friday the 21st of June, trading on the euro closed up. The euro rose against the dollar to close the daily candlestick at 1.1378. The single currency made significant gains as stop levels were triggered as a result of a breakout of the 1.1330 resistance, as well as on account of a broadly weaker dollar following dovish comments from FOMC members. Head of the St. Louis Fed James Bullard and head of the Minneapolis Fed Neil Kashkari both believe that the FOMC should have lowered interest rates at the latest meeting.
Day's news (GMT 3):
15:00 Eurozone: ECB's Lautenschläger speech.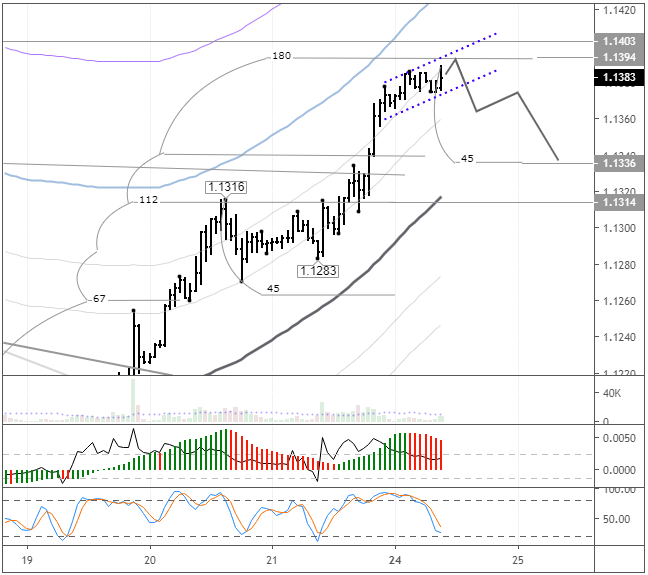 Current situation:
On Monday the 24th of June, the bulls hit 2 fresh highs in the Asian session. They were unable to continue upwards. The bears are defending 1.14. Considering that trading on the euro closed up on Friday, on Monday I expect to see a correction up to the 45th degree. The pair could drop further given that investors are preparing for a conflict between the US and Iran. Trump has said that he didn't call off the attack on Iran, but simply delayed it.
I think that there are some protective stop levels below 1.1373. If they're triggered, the pair will drop to 1.1355. After a short consolidation period, I expect to see a drop to 1.1338 (25th of June). My forecast extends to Tuesday.