Previous:
On Monday the 24th of June, trading on the euro closed up by 0.26%. The pair moved upwards within a 24-pip corridor. There was no significant economic news planned for Monday. The euro was held up above 1.1370 thanks to the euro crosses along with a declining US dollar, which has been under pressure since the FOMC meeting.
Day's news (GMT 3):
13:00 UK: CBI distributed trend survey – realised (Jun).
15:30 Canada: wholesale sales (Apr).
15:45 US: Fed's Williams speech.
16:00 US: S&P/Case-Shiller home price indices (Apr).
17:00 US: Richmond Fed manufacturing index (Jun), new home sales (May).
20:00 US: Fed's Chair Powell speech.
20:15 Eurozone: ECB's Cœuré speech.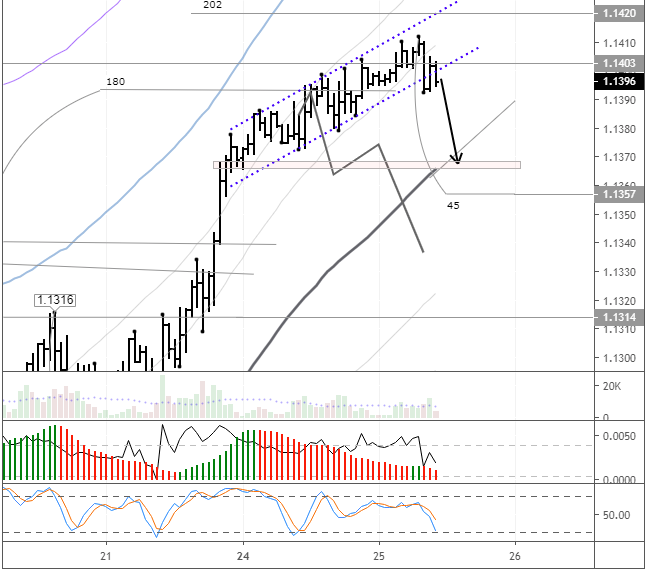 Current situation:
Yesterday didn't turn out as expected. I'm not sure why speculators still have an appetite for risk with the meeting between the leaders of China and the US looming (the coming weekend). It's as if the major players already know what's going to happen there. And what about the ECB's loose monetary policy?
US President Donald Trump has ordered new economic sanctions against Iran. The increased tensions have boosted the oil market, which in turn has boosted commodity currencies.
I'm not changing the forecast I made yesterday. The only thing is that after hitting a fresh high, the 45th degree has shifted upwards. The pair has broken the lower boundary of the channel and is now trading at 1.1389. I'm expecting a drop to 1.1365. If a sharp upwards rebound doesn't follow, we can expect a drop to around 1.1340.