Previous:
On Thursday the 27th of June, trading on the euro closed at the same level as on Wednesday (1.1369). Trading on the euro was stable against the dollar throughout the day. I think the reason for this is the upcoming G20 summit along with a lack of remarks from Trump directed at China. A Chinese representative said that China is ready to conclude a balanced trade agreement with the US, although the US isn't interested in this.
US President Donald Trump said that there's a possibility of reaching a trade agreement with China during the meeting. There are rumours that there's already a preliminary agreement in the works that will see China avoid tariffs on 300bn USD of Chinese goods.
Day's news (GMT 3):
11:30 UK: current account (Q1).
15:30 Canada: GDP (Apr).
15:30 US: personal income (May), personal spending (May)
16:45 US: Chicago PMI (Jun).
17:00 US: Michigan consumer sentiment index (Jun).
17:30 Canada: Bank of Canada outlook survey.
20:00 US: Baker Hughes US oil rig count.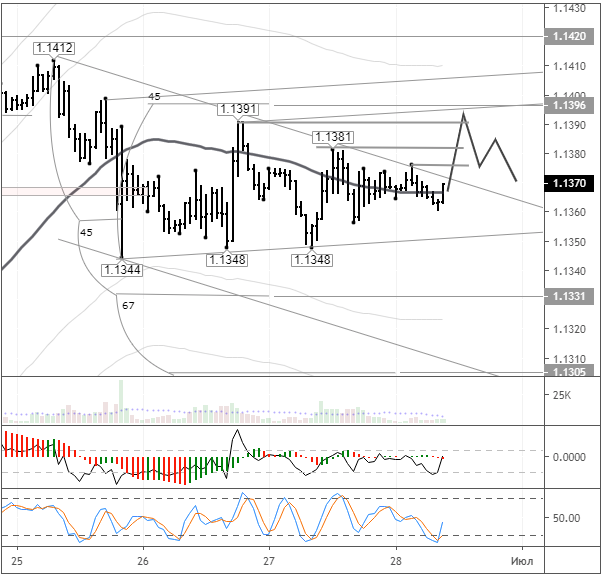 Current situation:
At the time of writing, the euro is trading at 1.1375. The bulls have broken the resistance and have set their sights on 1.1395. I can't see the pair rising any further than the 45th degree given that traders are being cautious ahead of the G20 summit this weekend. Investors expect the US and China to agree to a truce in their trade conflict. However, uncertainty remains due top Trump's volatility. In today's forecast, I'm expecting the bulls to trigger the stop levels above 1.1376, 1.1391, and 1.1391. As soon as they're triggered, we should see a drop to 1.1370.