Previous:
Trading was mixed on the majors against the US dollar last week. The New Zealand dollar rose by 2.02%, the Australian dollar by 1.141%, the Canadian dollar by 1.01%, and the Swiss franc by 0.02%. Among the losers were the yen (-0.56%), the pound (-0.36%), and the euro (-0.01%).
It was surprising to see such weak fluctuations during the last few working days of the month, the second quarter, and first half of the year. Nobody tried to break through or defend any key levels. This was due to the fact that everybody had their eyes fixed on the meeting between the Chinese and American presidents. Over the course of the last month, the euro gained 1.78% against the dollar, and 1.44% over the last quarter.
The bulls triggered stop levels on short positions above 1.1380 before retreating to the 1.1350 support. The bears did the same thing in today's Asian session, triggering the stop levels on long positions below 1.1350.
Day's news (GMT 3):
10:55 Germany: Markit manufacturing PMI (Jun), unemployment rate (Jun).
11:00 Eurozone: Markit manufacturing PMI (Jun), M3 money supply (May), private loans (May).
11:30 UK: Markit manufacturing PMI (Jun), consumer credit (May), M4 money supply (May), mortgage approvals (May).
12:00 Eurozone: unemployment rate (May).
16:45 US: Markit manufacturing PMI (Jun).
17:00 US: ISM manufacturing PMI (Jun), construction spending (May).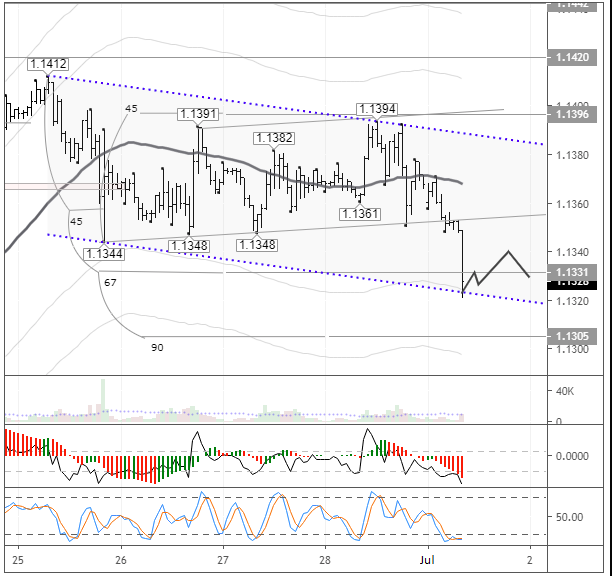 Current situation:
Expectations that stop levels above 1.1380 would be triggered were met in full.
The heads of state of the US and China have reopened trade talks. Washington has suspended the introduction of new trade tariffs. Trading opened down on all the major currencies. Markets have determined that while the trade war has been put on hold, without a preliminary agreement having been reached, the situation could worsen at any moment.
After breaking the 1.1350 support, the pair dropped to the lower line of the channel at 1.1322. Judging by wave structure of the downwards movement from 1.1412, I'm expecting an upwards correction here. The 67th degree is a strong level for us. Since it's bolstered by the channel from below, following high volatility in the Asian session, markets could take a break here to decide in which direction to proceed. I'm predicting a recovery to 1.1342. Considering that today is Monday and there is a lot of news to come, we could see the formation of a V-model with a target of 1.1370.